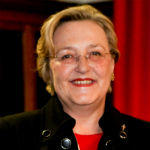 Dr Rosalind Stanwell Smith, Honorary Associate Professor at the Centre for History in Public Health at the London School of Hygiene and Tropical Medicine and Honorary Fellow of RSPH, discusses the value of public toilets.
Who cares about toilets? Well, we all do when we need one, but perhaps we should care a lot more. It's ironic that the most publicised rush to buy supplies in early lockdown concerned toilet rolls – the theme of this year's World Toilet Day concerns valuing toilets and clearly people value using them.
With 3.6 billion globally still lacking a toilet or something even approaching safe sanitation in their homes, it has possibly seemed unnecessary to plead the case for additional toilets outside the home, which are also needed worldwide. Access to public toilets declines more each year, even though not being able to find one can ruin an outing or deter the exercise and fresh air that we all require.
When we find a public toilet, all too often it is poorly managed, neglected or closed due to underfunding. The same words have been used to describe the state of sanitation in many parts of the world.
While the emphasis of World Toilet Day is of course on increasing basic provision of a facility essential to civilised living, our complacent attitude to declining public toilets sets a very poor example. There have been times in history when this health need was more openly debated, although there is always a trace of taboo, if not a snigger, when we try to get this higher on public health agendas.
On 18th January I am hosting an online members event for RSPH, where I shall try to show how history, humour and health issues can give us a perspective, as well as a future direction to toilet provision, wherever this humble necessity is needed.