Covid-19 and Smoking: Act Now to Prevent a Health Calamity from Happening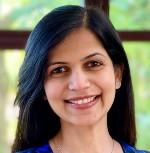 Dr Pooja Patwardhan is a GP and the Clinical Director of the Centre for Health Research and Education (CHRE), working globally on tobacco cessation with a mantra of 'Bridging the Policy and Practice gap'. Here, she provides practical tools for all health care professionals and public health bodies, to empower and support smokers to quit smoking, and prevent ex-smokers from relapsing back to smoking, during and after the Covid-19 outbreak.
With Covid-19, everyone is experiencing really challenging times. We are all trying to do our bit to support people who have been unwell with Covid-19. However, it is also essential to pre-empt the unintended consequences of isolation and social distancing on the population's mental health. The uncertainties around health and the economy are making most people very anxious and stressed. We already know that stress and boredom are triggers for smoking. There is a greater likelihood of people making unhealthy lifestyle choices to cope with stress, which may lead to increases in smoking: now and also in the future, at least until the financial and social impact of the pandemic settles down.
With this background, and in times when our NHS and public funding money are already very stretched, it will be expected that all healthcare professionals will have to provide smoking cessation support. Everyone will have to take responsibility in this important area of preventive medicine. But at the same time, we also know the extra work the Covid-19 pandemic has created for the healthcare sector. We at CHRE know how busy healthcare professionals are, and will be, once the lockdown is over. Therefore, we have created some easy tools for all clinicians and public health team members to use both in supporting current smokers to quit smoking and in supporting ex-smokers to stay away from relapsing back to smoking.
Infographics to support smoking cessation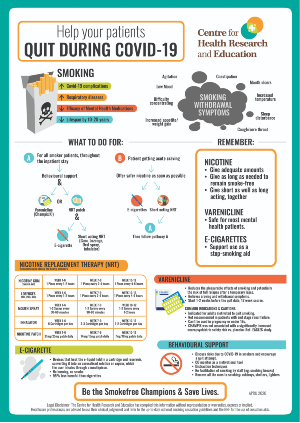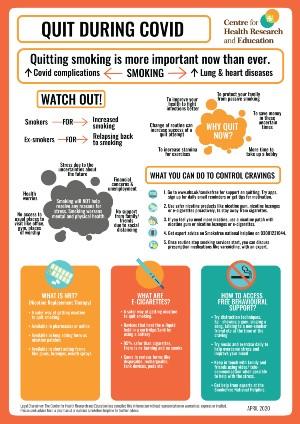 The first infographic: Help your Patients Quit During Covid: This is an aide memoire for busy Health care professionals. We strongly recommend proactively asking for the smoking status of every person being seen in a professional healthcare capacity and if the patient is a smoker, discuss all the options of cessations aids with them. This infographic highlights important practical points from the latest smoking cessation guidelines. It has brief information about not only the reasons to quit smoking and list of withdrawal symptoms, but also the doses and brief information of the cessation aids. This can be used by community clinicians like GPs and nurses, and also by staff working in secondary care, especially in settings like mental health hospitals. Download the resource.
The second infographic: Quit During Covid: This is for healthcare professionals to hand out to smokers and to ex-smokers who are at a risk of relapsing. We would encourage GP surgeries and public health resources to include this on their website, in Covid-19 related self-help sections. It is a self-help tool for staying away from smoking by using behavioural therapy techniques and stop smoking aids. Download the resource.
Let us work together to support people to quit smoking now and prevent another significant health calamity after the Covid-19 pandemic. Please download and use these infographics: they are free for use for everyone to help people stay away from cigarettes. You can also read our previous Covid-19 blog COVID-19 related stress and social isolation: Risk of millions relapsing back to smoking worldwide.
If you would like any additional information about the 'Quit during Covid' resources please email [email protected]