Mental Health Awareness Week: Green Light for the Mind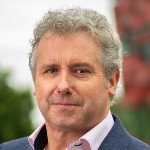 Professor Paul Crawford is Director of the Centre for Social Futures at The Institute of Mental Health, The University of Nottingham. He is also the Project Lead and Principal Investigator for the What's Up With Everyone project and here he talks about how the project's resources can support people during Mental Health Awareness Week.
The recent ONS report showed an increase in reported levels of depression, particularly for young people, during the most recent UK lockdown. This should not surprise us given what we know of the mental health impacts of cabin fever (Crawford & Crawford, 2021). Mental Health Awareness Week (10th - 16th May 2021) rightly focuses on the benefits of nature as an antidote to the experience of lockdown. This is because accessing nature can stop prolonged confinement and isolation indoors and mitigates increases in anxiety, depression and irritability caused by cabin fever.
The weather in the first lockdown in early 2020 was glorious and allowed us to meet with family and friends in gardens and parks. Nature took over. There were quieter skies and urban environments. Foxes and many other animals ventured down the middle of empty streets! People took more notice of the birds and flowers. They heard birds more fully with the retirement of traffic. One of the first things I bought online during lockdown was a squirrel-proof bird feeder, a bag of seed, a book on British birds, and a monocular so that I had some company on my urban desert island!
Yet the second lockdown hit hard. It coincided with winter, the shorter days and darker nights. We could not escape so easily into the garden or parks with family and friends. Stuck in our bubbles, and with the comforts of nature not quite so present, the days and weeks and months dragged by. Few of us escaped the impact of boredom and lack of social freedoms. Many people struggled to keep their homes feeling like a sanctuary rather than a prison during this time.
To help with this, our mental health campaign with Aardman (Wallace & Gromit, Shaun the Sheep), funded by the Arts and Humanities Research Council, engaged with young people to share their stories through short animated films about five of life's challenges that they identified as important. These concerned loneliness & isolation, perfectionism, competitiveness, independence and social media. The films and further information are available on the project's website.
One of the films, on the dangers of comparing each other on social media, sees the character Alex unhappy at the popularity of Daisy with her thousands of followers. It is set in a natural garden scene where Alex's negative thinking shows as black spiky brambles that drive out the greenery. Alex adjusts her thinking to like herself more and appreciate her 'lovely garden'. As she does so, the dark brambles fall back and sunlight and greenery return. The film conjures up that link between the impact of negative thoughts and unhelpful comparisons. It also evokes how natural greenery and light can combine to deliver a 'sunny' disposition.
Now, as we start to leave our cabins again, and move into the light, hopeful of a more predictable and normal future, nature is resurgent. The daffodils and cherry blossom are out, the buds are opening on the trees again, and the orchestra of nature has started to get back on stage. Research has shown that being close to nature not only improves your mental health, but can also help you to feel calmer and happier. With better weather comes more opportunities to explore nature, whether that's with family and friends, or by yourself. We hope that this Mental Health Awareness Week, you can take the time to give yourself the 'green light' to enjoy the beauty and diversity of the nature around you.
References:
Crawford, P. & Crawford, J.O. (2021) Cabin Fever: Surviving Lockdown in the Coronavirus Pandemic. Bingley: Emerald.