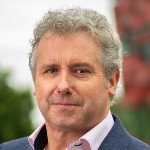 Paul Crawford is Professor of Health Humanities at the School of Health Sciences and Director of the Centre for Social Futures at the Institute of Mental Health, University of Nottingham. He leads a large program of research in applying the arts and humanities to inform and transform healthcare, health and wellbeing. He and his team have recently completed an AHRC-funded project on Florence Nightingale. He is a Fellow of the Royal Society for Public Health.
Around 4.2 billion, or 54% of the global population, found themselves in complete or partial lockdowns at the height of the pandemic. This will have brought many different kinds of experience, not least whether the familiar place of home would become either a prison or a sanctuary. As time passed, it became clear that enforced confinement was a stress test of physical and psychological endurance, if not a real mortal threat.
Whether people lived alone or with others at this time, the home environment became something other, not least a place of potential contamination, with many people intensifying their cleaning habits of hands, surfaces and deliveries. For some, confinement at home exacerbated domestic violence and abuse, or combined with financial distress from lost jobs and deprivations such as poor diet or restricted social contact. For others, more positively, the pandemic provoked 'an outbreak of creativity'. Whatever the turbulence or new opportunities, the pandemic lockdown has made the home environment a chief concern for public health.
Curiously, the pandemic has coincided with the bicentenary of the birth of Florence Nightingale in 1820, a great champion of public health. Importantly, as we show in our book, Florence Nightingale at Home (Crawford, Greenwood, Bates & Memel 2020), she knew that the health of any nation starts in the home. She herself experienced the sweet and sour aspects of the home and its impacts on human health and wellbeing, not least, as she strove to be independent and find a 'home' in work. She knew that 'Humans would not be truly healthy—that is, would not flourish—unless they felt truly at home' (Crawford et al, 2020: 12) and her determination to advance public health at home built on centuries of domestic care offered by women.
In her formative years, Florence Nightingale learned the value of charitable health visiting to poor communities around her family's Derbyshire and Hampshire estates years before the Crimean War and for the rest of her life afterwards, until her death in 1910, she laboured for improvements in public health. Even before she attended to the wounded and infected soldiers at Scutari Hospital, bringing them home comforts and offering condolences to grieving families back home, she had experienced the curse of outbreaks of influenza. She learned that infection was not choosy. It can strike anyone, anytime. She recognised that without good hygiene (handwashing, clean bedding and clothing) and ventilation, infection could get the upper hand and increase mortality despite the best efforts of doctors and nurses. This was true for the hospitals, the army and the wider public in their homes.
Like our health personnel today, Nightingale put herself in harm's way and ended up contracting brucellosis from infected milk in the Crimea. This left her an invalid in great pain and exhausted for much of the rest of her life, causing her to work mostly from home as many of us are doing now. Confined to her home, she knew all about isolation but put it to best use. In fact, she did her greatest work after the war and from her bed. As many people have been working from home during the pandemic, if not from their beds, the example of Nightingale remaining purposeful and productive should be an inspiration to all of us.
Nightingale lived at a time when a public health system was beginning to emerge, and she played a key role in its development, not least the design and organisation of hospitals, army sanitation and innovating the training of nurses and other health workers. Importantly, she gave extensive advice on health in the home environment, insisting on the importance of ventilation, sanitation and the use of safe household materials. These and other techniques were set out in her popular book, Notes on Nursing (1860). If she were here now, we would not find her lolling on a beach somewhere but establishing a beachhead for attacking the pandemic, beginning in our homes, challenging us to make them sweeter and safer.