Guest blog: Getting young people to openly discuss mental health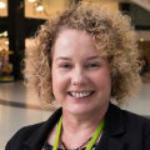 Professor Kate Ardern, Director for Public Health at Wigan Borough Council and RSPH Trustee, explains how the Young Health Champions programme can make a real difference to young people's health and wellbeing.
Self-harm affects more than one in twelve young people across the country. It's a topic that's been quite prevalent in the press recently but I'm passionate about celebrating the positive and proactive work we're delivering in Wigan to help address mental health awareness in our young people.
In 2017, we rolled out the Young Health Champions programme locally, which is a national scheme run by RSPH. It encourages young people to take care of their own and other peoples' mental health.
Through working with our schools, young people volunteer to take on training from local providers on how to stay healthy. After receiving their training, the young people pass on their knowledge by developing their own campaigns and resources.
I had the privilege of meeting Beth Bretherton, 22 from Hindley, who designed her campaign around mental health in young people after seeing her sister experience her own difficulties. Beth created a fantastic resource to encourage positive conversations among young people about mental wellbeing. Her aim was to create something engaging to reduce the stigma about mental health and self-harm and to help others her age who may be worried about their friends or family.
The booklet Beth created, You Can Help: A Small Guide To Helping Someone In Crisis, is really inspiring. Here we are, supporting a young person to positively address issues in a way that relates to young people, as opposed to us thinking we know best and consistently pushing clinical information.
Obviously, professional opinion is important but we need to make sure the information is relatable to our audience and Beth has done a sterling job. We're going to put her booklet online and point young people to it should they need some support.
One of the reasons we rolled out the Young Health Champions programme was to support the ideas and creativity of young people locally and their enthusiasm to address big public health challenges.
Beth is someone who has risen magnificently to this, and through her training and development with the young health champion movement, she's had the confidence to use her own 'expert by experience' approach to develop something much more meaningful and it is a brilliant piece of work that we as a council can use.
We want young people to feel like they can openly discuss mental health, without it being taboo, either to each other or to an alternative trusted person.
It's important to understand the signs and symptoms of negative mental health and self-harm and this is very closely linked with the values of our #TogetherWeCan campaign, which aims to positively address a range of age groups and triggers that we know are difficult times for people.
One of the reasons we rolled out the campaign was because we want people to be comfortable, sensitive and empowered to help themselves and others at a pace comfortable to them.
Ultimately, as director of public health, I'm here to provide support and give people the resources to deliver their services, but I'm also really passionate about a 'citizen-led public health' whereby we celebrate the fantastic work that comes from local people. I look forward to continuing working with our young people and seeing the difference their ideas can make to others.
Beth Bretherton said: "Growing up with a long term health condition (Chronic Fatigue Syndrome) I've become fascinated with healthy living. I have personal experience with depression due to family reasons and it's very important to me that people are knowledgeable about what they can do to help rather than feeling like they can't do anything.
"I wanted to create something that gave enough information, was easy to understand and that people would enjoy reading. I put a lot of thought into making it positive and into giving people something they use to help those at work or at home who are struggling with their mental health.
"My sister told me it's helped her to focus on the positive steps you can take to reduce anxiety and depression and it's made it easier for her to ask for help. I really loved the Young Health Champion programme and learning about what's going on in Wigan and what young people can do was really interesting. Charlie was a great teacher and I loved finding out about the services Wigan Council offers to young people and also people in crisis."