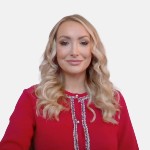 Ashton Collins is the Director of Save Face, a national, PSA accredited register of non-surgical cosmetic practitioners. She set up the register in 2014 to help people seeking cosmetic treatments navigate their way to a safe pair of hands. Here, she outlines the dangers of getting a cosmetic procedure from an unqualified practitioner and why she supports a new qualification from the QCCP and RSPH, that trains healthcare professionals to carry out cosmetic treatments.
Save Face is the largest voluntary register of regulated healthcare professionals providing non-surgical cosmetic procedures in the United Kingdom and Ireland. The first of its kind to be accredited by The Professional Standards Authority.
The provision of Non-surgical Cosmetic procedures is largely unregulated in the United Kingdom. The public can access services from anybody, in any environment and there is no standard of training or qualification required. In 2013 a report commissioned by the government identified the risks to the public and made recommendations. Subsequently, Health Education England conducted a wide scale review of education and training standards and recommended regulated qualifications.
The training landscape has remained diverse, with no recognised standard, very few regulated providers and a great deal of unscrupulous and misleading claims made in marketing. If training and certification can be provided without any regulation and oversight, the public have no hope of knowing who has been trained to safely and competently deliver their treatments. People seeking training can be exploited, paying a great deal of money only to find they have not been trained as promised, to access safe products and practice safely.
Save Face is concerned with both practitioner and public safety. In 2019 we received 1,617 complaints from members of the public and 86% of them had received treatments from beauticians, hairdressers or lay-people. The common factors clearly indicate the fundamental knowledge required to be safe and competent is not demonstrated.
Save Face welcomes a qualification that examines against a standardised competency framework designed to ensure the public can identify practitioners who have the range of knowledge required to deliver safe treatments and manage risks. For the first time, training providers can design appropriate courses covering an essential curriculum and achieve centre recognition from the RSPH. Those wishing to undertake training will be able to expect a quality standard from approved centres and can achieve a regulated qualification which the public can recognise and trust.