Guest blog: Learning to see with a population perspective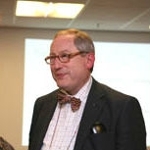 Dr Woody Caan, Editor of the Journal of Public Mental Health and RSPH Professorial Fellow, considers how a population perspective could help direct leadership and policy in public health.
Last week in Sweden, a remarkable man passed away: Hans Rosling. He was Professor of International Health at the Karolinska Institute, but was perhaps better known to UK readers through online TED talks or the BBC programme The Joy of Stats.
He had a rare gift for making the population sciences (such as epidemiology, economics or demography) intelligible to policy makers, and a passion for addressing health inequalities across all borders.
Just before the Christmas holiday, the Department of Health responded to the House of Commons Health Committee report on public health, presuming no one reads such dull fare with their Christmas crackers.
Following public health's statutory reorganisation in 2013, in 2016 the Health Committee had carried out its oversight duty to make a number of specific and practical recommendations in 2016. The government responses can be summarised as Not Interested, Not Now or We will Review that at some vague time in the future when everyone has forgotten the question.
My professional interest is in health improvement and, 'when it comes to improving health', the Committee wanted 'national system leadership'. The government response was that responsibility 'rests unequivocally with the Secretary of State'.
On several occasions since he took office in 2012, I have listened to the Health Secretary, but he has never displayed any interest in Population Health or such key determinants as social inequalities or trajectories during the life-course.
The Health Secretary tweets about once a day, for example 34 tweets or retweets in December 2016. Most were about acute care of individuals with a few about life sciences, innovation or dementia – but none related to Population Health.
On 20 December 2016, his final oral answers to health questions in Parliament included seven answers on leadership – none about public health leadership. Typical of his strictly clinical focus was this oral answer:
"Evidence from all over the world suggests that higher standards of care for patients relate directly to the quality of clinical leadership, which was why last month I announced a number of measures to increase the number of doctors and nurses in leadership roles in the NHS."
The future quality of public health leadership is just as important, especially to achieve a population fully engaged in health improvement. The Liberal Robert Lowe coined the phrase we must 'educate our masters' in relation to the Conservative Benjamin Disraeli's 1867 Reform Act – which Disraeli liked so much he adopted it with his own supporters.
Lowe went on to become the first MP representing the University of London, and my contemporary colleagues at its Institute of Health Equity certainly educated me well.
It is not easy for anyone to be a Secretary of State and learned societies should play a role in educating the Conservative, Jeremy Hunt. In the last few weeks, two tweets suggest some awareness of health protection (namely cervical screening and flu vaccination).
I suggest his education begins with Eugene Milne's December editorial on health protection, 'What is public health?' in the Journal of Public Health:
"For what it is worth, my own admittedly imperfect rule of thumb, is that if you can name who benefits, it is probably health or social care, whereas if you know that somebody benefits but you can't say who – and particularly if the recipients are asymptomatic – it is probably public health."
After decades 'promoting' health, I would add that it works best when members of the public become emancipated during health improvement (i.e. fully engaged as the real experts on determining their own health). Perhaps someday Hunt will reveal a capacity to mobilize bottom-up support for health improvement. That would be an essential aspect of public health leadership.
The secret of good public health policy is to bridge and unite both the Department of Health and the public. However, as a member of the British Society for Population Studies, I grow concerned that the 'end of statistics' in a world of post-fact policy highlights the shifting relations between knowledge and power.
Personally, I sympathise with broadcaster Rachel Riley's tweet 'Let's do some sexy arithmetic' and Rosling showed policy makers how only very modest understanding of numbers still opens up a whole world of statistics.
However, since 2003, National Numeracy have found basic skills have declined, with only 22% adult numeracy (which compares to equivalent literacy skills found in 57% of adults). For example, a corporation like Tesco knows an awful lot about its customers. About three quarters of UK adults reading the label on a bar of chocolate cannot connect its stated sugar content to a guideline daily amount of sugar. Unless we exercise our minds, the reclusive New Digital Elite in the corporate sector will soon hold most of us in thrall, and the public won't even be able to put their alternative facts to the test.
Numeracy can certainly be emancipating, if we let it be. The new film Hidden Figures shows three socially excluded African American women saving NASA's early space missions, in the 1960s. We must cultivate human capital wherever we find it!
Sometimes the Health Secretary must feel embattled and unloved. If I was trying to educate him about health improvement I would not start with familiar (and potentially aversive) NHS statistics. We would look together at a new, population health indicator from the updated PHE Framework:

"The proportion of people in prison aged 18 or over who have a mental illness"
Easier to start with 85,000 people at known addresses than the whole English population…and a likely revelation about populations and public health?