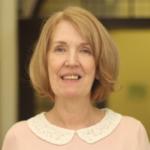 Miriam Donaghy, CEO of MumsAid, reflects on winning the Public Mental Health & Wellbeing Award at the 2018 RSPH Health & Wellbeing awards.
Last year MumsAid supported nearly 150 mothers who were experiencing mental or emotional difficulties during pregnancy or early motherhood, including depression, anxiety and PTSD. The RSPH awards seemed like a long shot for us, a very small local charity in South East London, with only the full-time equivalent of 2.5 paid staff, but our nomination was diligently completed by Julianne, one of our Trustees and a mother of 3, who had previously benefitted from our service.
Julianne's enthusiasm both about 'what we do' and about tackling the application form, carried us along through the process and we could not have been more delighted to hear in the summer that we had actually been shortlisted for the Public mental health and Well-being award. The details of the glamorous awards ceremony to be held at Canary Wharf in October where the winner would be announced created a great sense of anticipation and excitement.
MumsAid's service, which includes free specialist counselling and provides childcare during therapy sessions, is designed to be responsive and accessible, extending support and friendship during a time of intense loneliness, and from inception in 2012, we have helped more than 500 families. In 2014 we set up our Young MumsAid project, a specialist service for 'teen' mums that continues to do such vital work. We know that by offering early intervention MumsAid prevents the negative impact of mental health difficulties not just for mothers but for their babies and partners too, and also helps to reduce the intergenerational cycle of mental health and poverty that can occur when families go unsupported.
The need is great. Up to 20% of women are affected by perinatal mental health problems, yet only half of mothers are identified, and even fewer receive treatment. Some 1,600 women in Greenwich, where MumsAid is based, will experience Perinatal mental health problems each year.
We were humbled to be announced the winner in our category from a list of very worthy organisations doing some amazing work. The award from RSPH, is a huge vote of confidence in MumsAid and has undoubtedly played a part in the very recent good news we've had re our funding which for the last couple of years, has been such a struggle.
It has also been great to have the opportunity to share the story of MumsAid on a wider scale. As a small charity we don't have a marketing budget or a PR team to advertise our impact or get our messages out, so the exposure and publicity that winning has brought to our organisation has been fantastic and very welcome.
Winning the award has given so much encouragement for everyone involved in MumsAid. We could not achieve all that we have without the dedication of our staff, who always go the extra mile, and the support of our committed and passionate volunteers. The counsellors, admin support and trustees give over 200 volunteer hours per month and being recognised as a winner on a national stage has been a huge boost for our 'small but mighty' close-knit team.
Finally, the glittering awards evening itself was hugely enjoyable and having our photos taken on the red carpet was such great fun. Receiving the award from RSPH has been immensely beneficial for our organisation possibly a game-changer: we heard just before Christmas that our core service will be commissioned by the local authority from April 2019, and that our application to the Big Lottery Fund to develop a peer support service had been successful. We feel excited to see what 2019 will bring for MumsAid as we continue to work toward a future where all mothers are supported.
So, if you're considering applying this year for the RSPH awards but for any reason hesitating, I hope our story gives you the encouragement you need to give it a go.