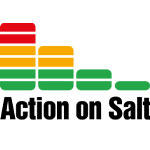 Mhairi Brown, Policy and Public Affairs Coordinator for Action on Salt and Action on Sugar, explains the theme of Salt Awareness Week 2020. Action on Salt works to reduce the salt intake of the UK population to prevent deaths, and suffering, from heart disease, stroke, kidney disease, osteoporosis, stomach cancer and obesity.
Salt Awareness Week is our chance to capture the public, government and food industry's attention and raise awareness of the damaging impact salt has on health. Last year, we drew attention to salt levels in children's meals finding truly shocking levels with some meals containing an adult's entire daily recommended limit of salt - yes, in children's meals! We've since investigated salt levels in products with cartoon characters on packaging, savoury picnic food, table sauces and the nation's favourite pork product: bacon. Each survey has found some worrying results – such as olives with double the salt concentration of seawater and 4g of salt in just one tablespoon of fish sauce - but the good news is many companies have managed to reduce salt levels in their products, setting an example for the rest of the industry and highlighting clearly that reductions can be made.
Despite this willingness to engage, government has for many years failed to show real leadership with salt reduction. The UK's world leading salt reduction programme has largely been forgotten in recent years, with huge progress made in the early 2000's when the programme was managed by the Food Standard's Agency being cancelled out by years of inaction under the Department of Health and Social Care. Thankfully, Public Health England have since taken the reigns and we were pleased to see their recent consultation on new salt targets, to be met by 2023, which cover all of the products included in the 2017 salt targets and even some new targets for salty sauces and popular snack foods like popcorn. While the targets are not very ambitious and targets for restaurants, cafes and fast food outlets are nowhere near robust enough, it is great to finally see some action on salt. We will continue to put pressure on government and the food industry to ensure that the salty choice is not the only choice for consumers.
To mark Salt Awareness Week 2020, we will draw attention to another category with surprising levels of salt, in part due to a lack of nutrition labelling and the general marketing and advertising of these products as 'healthy'. This fits in well with the theme of the week Hide and Seek - in a world where we are increasingly looking for help and guidance in eating a healthier and more sustainable diet, we are still surrounded by salt. Finding lower salt products sometimes feels like a game of hide and seek, but the food industry isn't playing fair and is hiding behind poor labelling, misleading health claims and confusing ingredients.
The new government has a strong majority and now has the power to continue to resuscitate our salt reduction programme and make the UK a world leading example once more. With bold action, it is entirely in our grasp to prevent thousands of premature deaths each year from stroke, heart disease and heart failure. Surely that's a game worth trying to win?
Salt Awareness Week will run from 9th – 15th March 2020 #saltawarenessweek