Guest Blog: Swimming towards better health and wellbeing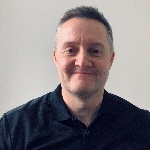 Andrew Power, Water Wellbeing Specialist at Swim England, explores the role swimming can play as part of a healthy lifestyle
As Water Wellbeing Specialist at Swim England, my work focusses largely on a model of support for leisure facility operators to create health improving pool spaces, developing, testing, refining and implementing within routine service offerings.
As the National Governing Body for swimming in England, our work has always been about helping people to learn how to swim, enjoy the water safely and compete in aquatic sports. However, there is an increasing recognition of the role we can play in supporting people to swim throughout the life course and enjoy better health.
The health and wellbeing 'journey' started in 2010 with the 'Taking the Plunge for a Fitter Lifestyle' report, highlighting how supportive an environment water is and its potential to prevent a range of long term health conditions. The report led to a number of interventions including a ground-breaking Dementia Friendly Swimming Project in 2014 with significant investment in resources to track behaviours and develop insight.
In 2016 our Swimming and Health Commission group commissioned a series of reviews into the evidence around swimming and health. The resulting report titled The Health and Wellbeing Benefits of Swimming report in 2017 covered the impact on physical health, wellbeing, physiological effects, public health, benefits to communities and the economic case.
The report highlighted how the popularity and inclusive nature of swimming makes it ideal for long term participation. In particular the way swimming appeals across communities, cultures, ages and unlike many other sports – across genders. But it was clear that it is not just activity per se, but the properties of water itself that can have transformative effects on health and wellbeing, with buoyancy, hydrostatic pressure, viscosity and thermodynamics (cooling effects) having the ability to bring about improvements that are unique to other active environments.
With further research around Behaviour Change, GP referral scoping and 'Swim London' pilots, we then developed our Three Frontiers Framework, allowing us to articulate what is needed to create the best possible customer experience and attract people into swimming across the whole population. This led to the development of our health and wellbeing model, the Water Wellbeing programme, one of the nominated projects in last year's RSPH Health and Wellbeing awards, which includes:
Training and resources supporting leisure operators to create accessible and inclusive environments
Recruitment strategies for promotion of physical activity pathways for specific audiences
Creation of compelling opportunities to enjoy in the water
One of the aquatic opportunities developed is Good Boost, a digital aqua rehabilitation app, delivered on waterproof tablet PCs. The multi-award-winning technology transforms pools into therapeutic spaces, creating measurable health impact through group and individual sessions, fitting into any pool timetable. The technology is a class 1 medical device and NHS Digital Technology Assessment Criteria (DTAC) approved.
Good Boost artificial intelligence technology creates personalised aqua rehab exercise programs for participants based on registration details on conditions, mobility, exercise confidence and other factors. Users follow exercises animations on tablet PCs on poolside, providing ongoing feedback to continually adapt and tailor the exercise to needs and preferences.
The technology gathers outcome data throughout, demonstrating improvement in pain, physical function and quality of life for participants with a wide range of MSK conditions, including those before and after orthopaedic surgery. Independent health-economic analysis demonstrates that each pool delivering Good Boost creates £90k+ of NHS health savings.
Speaking to Sir Muir Gray recently he commented: "At last the benefits of swimming are being recognised not only for lowering the risk of a wider range of conditions but also as therapy. The Academy of Medical Royal Colleges report is clearly titled 'Exercise the Miracle Cure". As a consequence of this is coming a change in clinical practice with Activity Therapy being prescribed every time a drug is prescribed, the term 'activity' is kept broad because it is recognised that activities such as swimming have emotional and cognitive benefits as well as physical benefits.
A National Activity Therapy Service is being developed and GP information systems, which obviously know everyone's postcode, will be able to link each individual's diagnosis and treatment to their local swimming pool or the nearest swimming pool that has a group for people with a particular health problem."
We have continued our work around advocacy for our sector through further reports on the economic 'Value of Swimming' (2019) and the state of the pool facility stock in the Decade of Decline report (2021), seeking to influence and increase awareness of the importance of swimming to Government and in healthcare professionals as well as commissioners minds.
Swim England's vision is of a nation swimming and we are keen to work with partners across physical activity, healthcare and charitable sectors who can further support the development and implementation of our Water Wellbeing model, safeguarding our most valued aquatic spaces for the future and impacting on the health of the population now and in years to come.
For more information contact Andrew Power at: [email protected]