Guest blog: Using the best of technology to combat the worst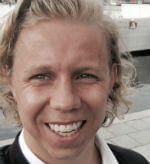 Maths Mathisen, CEO and Co-Founder of Hold, the app rewarding students for not checking their mobile phones while they study, talks about how and why the company was founded.
I am a millennial, part of a generation that has grown up as smartphones developed, enjoying near-instant communication throughout my teens and early adulthood. As such, I am also part of the first generation to experience the negative impact that this technology can have.
When I was first given a mobile phone, my parents, the government and the general public had little knowledge about the potential problem that millenials would be facing as they became more and more dependant on the instant gratification that smartphones and social media can offer us.
This realisation really hit home me while I was at university. My friends and I were trying to study, but we found that we were constantly distracted by phone notifications, mindlessly scrolling through social media, playing games and texting.
Experiencing this as we revised for our exams led us to experiment with different ways of tackling digital addiction. One of the ways we tried (which eventually came to be the main principle behind Hold), was to compete against each other. We found that the competition element kept us focused, however, we needed more motivation (in addition to finishing our degrees, of course).
This is how we decided that the loser of our game, in this case, the person who checked their phone first, would buy coffees for the rest of us. The two-fold nature of our experiment - healthy competition and rewards, got us to thinking that this principle would work well for students everywhere, which is how Hold was born.
We built the app while still at university, experimenting on ourselves first, as we figured that students around the world would face similar problems - an unhealthy relationship with their smartphones and a desire for treats and rewards. We knew that simply telling someone that they were addicted to their smartphone didn't work - most people already know this, yet the problem persists.
Similarly, we knew that trying to 'ban' smartphones wasn't effective, as they are incredibly useful tools. Which is why we decided to play on what we found through our coffee challenge - we decided to encourage students to compete with each other, rewarding them through brand partnerships that we secured for Hold.
Launching Hold in Norway in 2016, we accumulated 50,000 downloads in the first three months, which proved to us that not only did our logic work, but a tool like Hold was needed by students. Following our success at home, we expanded into the UK, where the demand was even bigger than in Norway - more students signed up in the first week than in Norway in three months. More brands joined - Vue Entertainment, SKY, Expedia, Revolut, FuzeTea and Perlego and others, providing students with a huge choice of rewards and motivation.
Looking back at our initial successes, we want to go further - we want to change the entire relationship we, as a society, have with our phones. We want to keep smartphones as useful tools, that will never and should never replace human contact. We want to expand Hold to businesses and families, to help them foster a healthy relationship with technology.
I believe that the Hold principle, which gives each user the option of how long they want to be phone-free, alongside positive reinforcement and gamification, will be the solution we need, getting us off our phones and into real life conversation. By using the best of technology to combat the worst.