What all these changes have in common is that they have been put in place to help keep the public as safe as possible. With this in mind, hygiene experts at RSPH and the International Scientific Forum on Home Hygiene have produced an infographic which highlights some key things to think about and do, to reduce the risks of spreading COVID-19 over the festive period.
Seeing family and friends over Christmas is a calculated risk and we all need to think carefully about who we can meet up with, where we should meet and in some cases, whether we should meet at all.
Although the festive period is one that most people associate with rest and relaxation we still need to be aware that:
COVID-19 only "breeds" in human cells. It can't breed on surfaces or in the air
COVID-19 infection spreads by infected people spreading the virus to other people
Most infections are transmitted in people's households
You won't know if someone in your household is spreading infection because 50% or more of people who are infectious feel and look normal
The more contact there is between household members, the more cases will increase – locally and nationally. If the number of these contacts decrease, rates will fall again. The risk is zero only when nobody is infected
The more time you spend with an infected person the more likely they will infect you
The biggest risk comes from virus recently breathed out, or deposited on surfaces, by the infected person. Once they leave your home, risks from any virus they leave behind in the air or on surfaces will get less, particularly if you keep your home well ventilated
The riskiest surfaces are those frequently touched by many people such as tap and door handles, telephones, mobile devices, television remotes etc.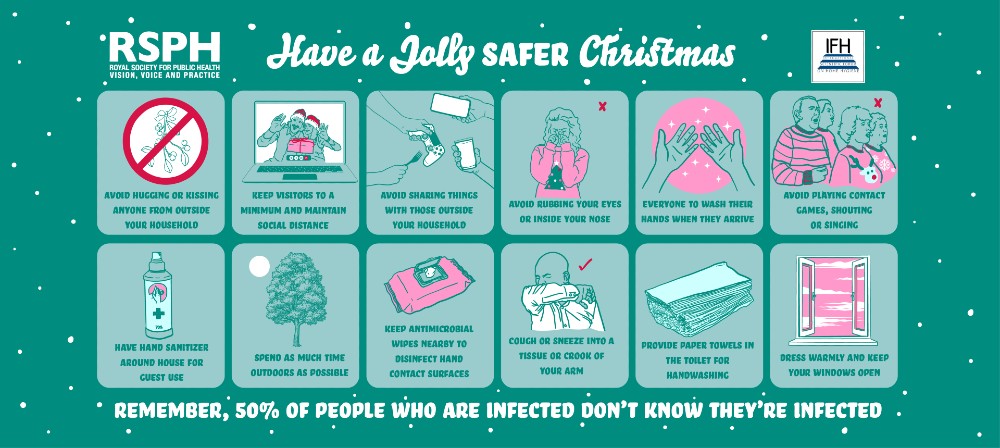 If you are planning on seeing people over Christmas we have put together some tips for keeping yourself and your loved ones safe:
1. Keep your social distance
2. Don't hug people
3. Wash your hands and disinfect hand contact surfaces frequently
4. Think about wearing a mask when meeting friends and family
5. Limit the number of people in your home
6. If you can't meet up outside, make sure your house is well ventilated
7. Don't sit opposite people you don't live with
8. Don't share things like serving spoons, playing cards or game controllers