One in two won't feel safe visiting pubs for at least three months, as more businesses reopen this weekend
Just one quarter of the public (26%) would feel safe going to pubs and bars immediately, with almost one in two (47%) saying they wouldn't feel safe returning for at least three months.
Only one in four feel safe enough to return to newly reopening pubs (26%) and restaurants (25%)
One in four (26%) planning home haircuts more often in the future
Over one in four (29%) more likely to limit high street visits due to concerns about taking public transport
Polling by YouGov has also shown that public opinion about the scheduled reopening is mixed, with support for the changes dropping from 64% to 55% in the past two weeks.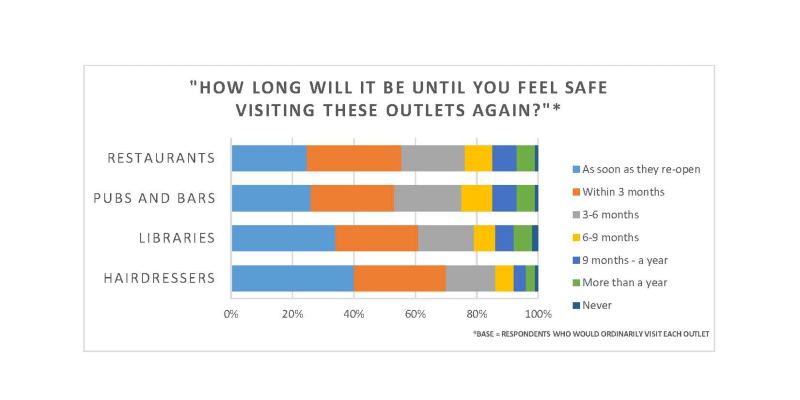 RSPH polling also suggested potential longer-term impacts of lockdown on the public's preferences for doing certain activities from home – such as haircuts and workouts – instead of taking their business back to the high street. One in four of the public (26%) said they are planning more home haircuts in the future, and a third (35%) of gym-goers opted for the home work-out and using the gym less often than before lockdown.
Strikingly, people from ethnic minority backgrounds – who have been disproportionately affected by the COVID-19 pandemic – were substantially more likely to feel unsafe going back to shops. People from Black, Asian and Minority Ethnic (BAME) backgrounds were about half as likely to feel safe returning to visit pubs and bars (15% BAME vs 27% white) and hairdressers (23% vs 41%) when they re-open (see endnotes for full breakdown). They were also 29% more likely to say they would limit high street visits due to concerns about taking public transport.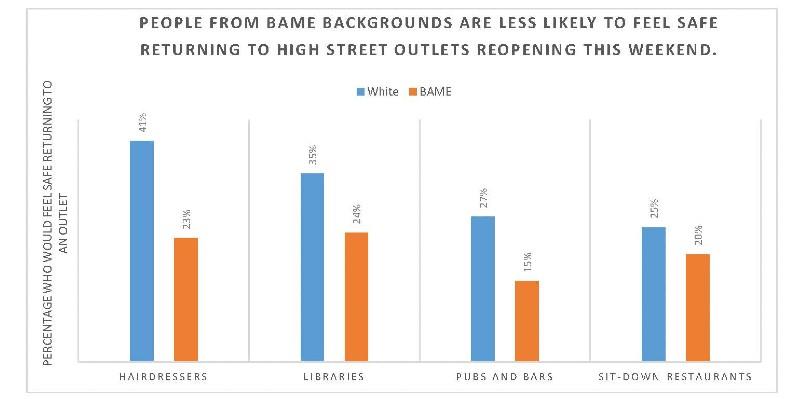 Christina Marriott, Chief Executive of RSPH, said: "The pandemic has drastically changed the way we shop and relate to our local area. A vibrant high street is vitally important for the wellbeing of local communities, but it is clear the public feel unsafe using them to the same extent as before lockdown, and will do for some time yet.
"With the prospect of more local lockdowns in the coming months, these fears are understandable – particularly for those from ethnic minority backgrounds and in areas of social deprivation, who have shouldered disproportionate hardships as a result of the virus.
"COVID-19 has exacerbated the challenges facing our high streets, which have been on a gradual decline for years. As we emerge from lockdown, we must use the opportunity to rethink how we use and support our high streets, but this will not happen without genuine and lasting investment from central Government. The High Street will need its own post-pandemic treatment if it is going to survive."