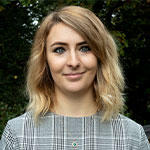 Zoë Fletcher, Communications & Content Officer at Creative Arts East, talks about their experience of winning a Royal Society for Public Health award in the Arts & Health category for their creative programme for older people, 'Our Day Out'.
We first submitted the Our Day Out programme for the RSPH Health & Wellbeing Awards in 2018, but having not been shortlisted that year, we decided to try again in 2019. During that year, our confidence in terms of communicating the programme's impact had grown, and we also received a report from academic professor Dr Paul Camic, analysing the last three years of our participant data using the academically validated Canterbury Wellbeing Scale. We feel that both of these factors contributed hugely to the Our Day Out programme being shortlisted for, and going on to win, the 2019 Health & Wellbeing Award in the Arts and Health category.
What is the Our Day Out Programme?
Our Day Out (ODO) is an award-winning health and wellbeing programme run by arts and community development charity Creative Arts East. It has developed into a fortnightly programme of dementia-friendly, inclusive and interactive music and movement workshops specifically for older people. The sessions are delivered by professional artists which focus on reaching community members facing additional barriers to participation such as carers, people living with dementia or other health conditions, and those experiencing social and/or rural isolation.
The programme's aims are to improve participants' wellbeing, promote a sense of fun and enjoyment from taking part in arts activity, increase social connections, and decrease feelings of isolation and loneliness.
The Programme's Successes
ODO has gone from strength to strength, securing highly competitive investment from the Spirit of 2012 Trust in 2016 and 2019, and now operates in eight locations across rural Norfolk. To date, the programme has engaged over 400 beneficiaries and delivered over 400 inclusive arts workshops. It also provided dementia awareness training and new employment opportunities for over 60 artists, practitioners and volunteers.
An important part in demonstrating the difference that Our Day Out makes is our fantastic academically validated results. We use the Canterbury Wellbeing Scale, developed by Dr Paul Camic, Professor of Psychology and Public Health at the Salomons Institute for Applied Psychology. This is a bespoke tool designed to effectively measure wellbeing improvements amongst those living with a dementia. Dr Camic's analysis of our data shows that through participation in ODO, participants' wellbeing is enhanced and sustained at a "statistically significant level" . 78% of participants felt their wellbeing had increased, and 94% of participants made new social connections as a result of attending.
And of course, when talking about the programme's successes, one of our most celebrated achievements has been winning a nationally recognised Royal Society for Public Health award for the programme's work in the field of arts and health.
Our RSPH experience
Just being shortlisted by a national recognised body was incredibly exciting. For a relatively small arts charity, the opportunity to attend the ceremony and celebrate with our partners, network with industry professionals and other organisations doing fantastic health and wellbeing work, and share news of our programme with influential attendees was prize enough.
Winning the award was easily one of the stand-out moments in the team from last year, especially after being up against some big names in our category. I think there were even tears at the ceremony! It was wonderful to feel that the work we do with some of the most hard-to-reach vulnerable older people living in rural communities had been recognised at this national event, particularly for a small organisation running a regional project.
This prestigious kitemark for our programme has reignited our determination to break into the social prescribing sphere, and we feel it is already helping us do so. We have previously struggled with this, finding the framework difficult to access, despite our proven positive health outcomes. After winning the RSPH Award, we redrafted our communication to those that could help include us in this framework, and have made exciting strides in potential partnerships with organisations like Mind, Norfolk Adult Social Services, care organisations and community link workers. We hope that as these connections and opportunities develop, we will see more participants access and benefit from Our Day Out.
We would have no hesitation in recommending to other organisations that they apply for the Royal Society for Public Health's Health & Wellbeing Awards, no matter the size of their organisations or locality of their project. The judges are keen to hear from organisations from all over the UK with passion for what they do, who can demonstrate significant positive impact on their target beneficiaries. If you can do this, then applying could really help take your programme to the next stage.