Public Health Minister's Award winner 2018
Public Health Minister's Award winner 2018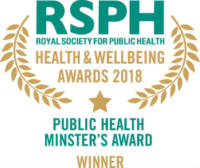 WINNER
Project: Building Stories
Comics Youth CIC is the first organisation of its kind in the UK to provide holistic comics-based literacy and wellbeing projects for disadvantaged children and young people aged 8-25 and is based in the Liverpool City Region.
The 'Building Stories' project is centred around providing a voice for marginalised young people including care leavers, looked after children, LGBTQIA YP (Lesbian, Gay, Bisexual, Transgender/Transsexual, Queer/Questioning, Intersex, Asexual/Allies young people), SEND YP (special educational needs and disabilities young people), young carers, and young people experiencing complex mental ill-health through providing them the tools to express themselves, improve their literacy, speak truth to power and have their voices heard through publishing 'zines and comics regarding salient community issues.
The project delivers guided reading and comic book creation sessions per week with the aim of empowering young people to become content creators rather than mere information receivers. By taking part in creative workshops, young people have the opportunity to write, illustrate and publish their own work, thereby enabling them to expand their narratives and communicate ideas and topics that are important to them as a form of 'social action' to challenge the stigma that surrounds their 'marginalised statuses'.
Highlights include supporting young people with SEND to read for the first time, encouraging non-verbal young people with autism to publish a comic book about their lives (young peoples' parents were unaware of their capability to express themselves), supporting a group of LGBT young people to publish a trans survival guide, and publishing 3,000 copies of a self-care zine curated by young people who have experienced mental ill health.
This project has also been awarded the Arts & Health Award 2018 and the Public Health England Commendation 2018: Reducing Inequalities at Community Level 2018.
​Winners of the Public Health England Commendations are selected from the finalists of the corresponding year's Health & Wellbeing Awards.