Public Health Minister's Award winner 2019
Public Health Minister's Award winner 2019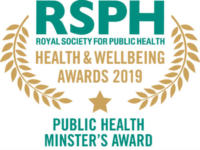 Winner
Project: You are not alone
You Are Not Alone is Body & Soul's pioneering suicide prevention programme. Established in April 2017, it has supported 160 young people aged 16-29 who are at high risk of dying by suicide.
Groups run for 20 consecutive weeks and members access this alongside other psychosocial, therapeutic and practical support including case work support for practical problems, 1:1 appointments with a nutritionist, 1:1 appointments with a psychotherapist, peer support and creative small group workshops.
The course focuses on four key components: mindfulness; emotional regulation; distress tolerance; and interpersonal effectiveness. Each component provides YP with a series of tools to implement to prevent self-harming behaviours and death by suicide.
Winners of the Public Health England Commendations are selected from the finalists of the corresponding year's Health & Wellbeing Awards.