Campylobacter: Facts and Prevention Strategies eLearning and RSPH membership
Campylobacter: Facts and Prevention Strategies eLearning and RSPH membership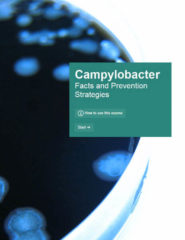 | Qty | Price per unit |
| --- | --- |
| 1-9 | £50.00 (ex VAT) |
| 10-19 | £48.00 (ex VAT) |
| 20-49 | £46.00 (ex VAT) |
| 50-100 | £44.00 (ex VAT) |
| 101-200 | £42.00 (ex VAT) |
In stock
From

£42.00

E-product
---
This eLearning is suitable for anyone with a desire to learn more about Campylobacter, and will be particularly useful for Environmental Health Officers.
It explores the facts relating to this organism, including symptoms and long-term health effects as well as examining the means to control this serious disease.
The programme covers:
What is Campylobacter?
History and prevalence of Campylobacter
Sources of Campylobacter
Changing behaviour
The programme is completed in three hours, and is worth 3 CPD points. On successful completion of the e-learning programme, users can request an RSPH CPD certificate and will also be given a code to use to register for RSPH Associate membership online.
If you are looking to purchase a large number of accounts for your organisation, please contact our eLearning team to discuss our bespoke customisation options.
Please note
We do not charge VAT on this item
This item is not eligible for the 10% member/centre discount
This item must be purchased using a debit/credit card