Level 2 Food Safety and Hygiene eLearning and assessment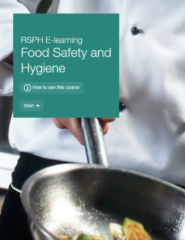 | Qty | Price per unit |
| --- | --- |
| 1-9 | £40.50 (ex VAT) |
| 10-19 | £37.50 (ex VAT) |
| 20-49 | £33.50 (ex VAT) |
| 50-100 | £33.50 (ex VAT) |
| 101-200 | £30.50 (ex VAT) |
In stock
From

£30.50

E-product
---
Everyone consumes food, and safe food is a significant element of public health. It is a legal requirement that anyone who handles food for others (either paid or voluntary) must receive training or instruction in how to handle food safely.
A great starter course, Food Safety in Catering covers:
How to handle food safely
How to protect food
Your legal responsibilities in food safety
The application and monitoring of good food safety procedures.
This eLearning course is essential for those who work in catering. Those who work in related sectors such as food retail, child care, residential care or transport will also benefit from this course if they handle food as part of their duties and are concerned about public health.
On completion for the course, we will provide a formal confirmation certificate. You can then organise an assessment date at our London Head Office with RSPH. Find out more about the assessment options available.
If you are looking to purchase a large number of accounts for your organisation, please contact our eLearning team to discuss our bespoke customisation options.
Please note
We do not charge VAT on this item
This item is not eligible for the 10% member/centre discount
This item must be purchased using a debit/credit card