Arts & Health Award 2016 winner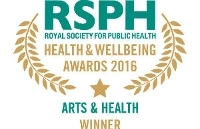 WINNER
Project: Making music for health and wellbeing
The Centre for Performance Science (CPS), under the leadership of Professors Aaron Williamon (Royal College of Music [RCM]) and Roger Kneebone (Imperial College London), is recognised internationally for its contributions to the field of music, wellbeing and health.
The CPS takes a strongly interdisciplinary approach to investigating the impact of the arts –particularly the performing arts – on health and wellbeing, accessing world-leading expertise and state-of-the-art facilities across the RCM and Imperial.
Ground-breaking projects have evaluated the impacts of group drumming for the wellbeing of people affected by mental health issues, the value of community singing for people affected by cancer, and musical activities in addressing post-natal depression and the role of music and arts in dementia care.
Running since 2010, its ambitious programme of work has rigorously explored how active engagement with the arts can support and enhance mental and physical health in community and NHS settings.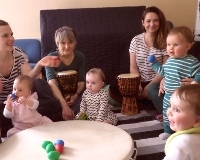 It has been implemented through multiple projects, focusing on key health challenges, developing, testing and spinning out successful interventions in the UK and abroad (winning over £1.7 million in competitive research funding, partnering with over 100 hospitals and recruiting approximately 3,000 NHS patients, and leading to over 20 peer-reviewed publications and around 200 features in print and broadcast media).
The CPS's work is well established for its contribution to health and wellbeing through the use of music. The programme has strong evaluation evidence that shows the value of community singing for people affected by different health conditions. It has strong partnerships working with NHS hospitals such as Imperial College Healthcare to improve the health and wellbeing of patients.
The workshops are free of charge and require no prior musical experience from participants. By delivering much of the work in West London, the CPS simultaneously has access to some of the wealthiest and most deprived areas of London.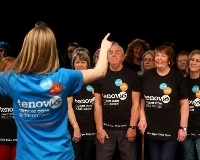 CPS recruitment strategies are targeted to ensure that they access people in need across all echelons of society. For the post-natal depression workshops for example, it engaged Health Visitors and psychologists from St Mary's Hospital, Paddington to champion the project to vulnerable women in temporary council housing in the north of the borough.
The CPS ensures that the projects are culturally diverse by fusing musical styles from different countries and workshops consequently bring together people from very different socio-economic backgrounds.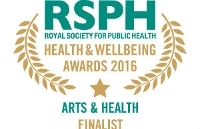 FINALIST
Project: Music for a While
The Music for a While project provided weekly music sessions for people with dementia and their carers while in acute hospital environments.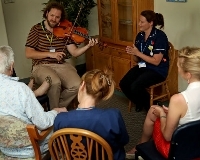 The objective was to test a model for engaging nursing staff in hospitals with no arts programmes, and to develop one that is sustainable and transferable. People with dementia may be in an acute hospital for a range of reasons, and the severity of their dementia can range from undiagnosed to severe.
The project focused on music because of the strong evidence demonstrating that it can improve mood, reduce anxiety and encourage sleeping, eating and drinking in patients with dementia.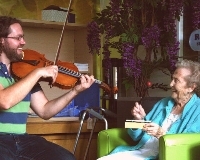 Observations from the service evaluation in Portsmouth and Poole showed that there was a reduction in falls, a reduction in the need for anti-psychotic drugs and a decrease in the length of stay in the period when the music intervention happened.
Led by Arts & Health South West, the project involved nursing staff from Hampshire Hospitals NHS Foundation Trust, Poole Hospital NHS Foundation Trust and Portsmouth Hospitals NHS Trust. The University of Winchester participated as a research partner, while Bournemouth Symphony Orchestra acted as a delivery partner.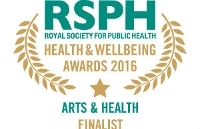 FINALIST
Project: Breathe Performing Arts Programme
Breathe Arts Health Research delivers dynamic, bespoke live events and performances in healthcare settings. These offer a diverse mix of high quality performing arts using world class performers, partnering with prestigious organisations such as City of London Sinfonia, National Theatre and Shakespeare's Globe to benefit the healthcare system.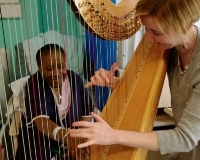 It currently offers 1,244 performances and interventions, reaching upwards of 37,000 people annually. Its performances are delivered into public, inpatient, out-patient and community units across Guy's & St Thomas' Foundation Trust (GSTFT), one of the largest Trusts in England, three hospitals, their satellite community units and the local communities of Lambeth and Southwark.
Recent initiatives include: Breathe Regularly – a wide reaching public programme of exciting live events in the centre of busy hospitals; Breathe In: Breathe Out – designed to enhance and humanise health environments, and reduce stress and anxiety levels; Breathing Spaces – a range of surprise pop-up events in public spaces offering a personal one-to-one performance for staff, patients and visitors.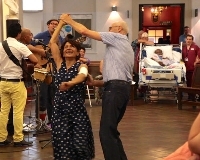 The programme has grown annually over the past eight years, and reflects the value that its funders and GSTFT place on it as an essential part of the hospital culture.
It is costed out and broken down into its specific components, allowing a 'mix-and-match' approach for new partners.