Arts & Health Award 2019 winner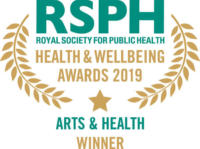 Winner
Creative Arts East
Project: Our Day Out
Our Day Out is an arts programme that Creative Arts East have been delivering since 2015, specifically designed to help older people from rurally isolated communities engage with high-quality music and movement.
Their participatory workshops run in six locations across Norfolk, each catering for up to 25 people and are delivered by professional artists trained to facilitate arts activity for older people. They are accessible to all older people but focused on engaging community members who may face additional barriers to participation, such as carers, people experiencing severe social isolation, people living with dementia or other long-term health conditions.
The aim of the programme is to improve participants' wellbeing, promote a sense of fun and enjoyment from taking part in arts activity, increase social connectedness and decrease feelings of isolation and loneliness.
---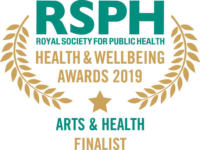 Finalist
Aesop
Project: Dance to Health
Dance to Health is a nationwide falls prevention dance programme for older people. It aims to become a national service valued by the health and arts sectors and available for all who need it. There is strong evidence that strength and balance exercises reduce falls amongst older people
Dance to Health combines evidence-based falls prevention principles with the creativity of dance and smuggles the six-month evidence-based exercises into creative, sociable dance activity cocreated with the older people and led by a dance artist who has completed the recognised falls prevention exercise qualification. These are called Improvement Programmes and they are for older people with a significant falls problem. The programme is available in six areas across England and Wales.
---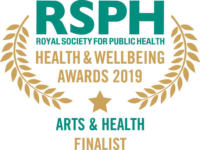 Finalist
Royal Brompton & Harefield NHS Foundation Trust
Project: Vocal Beats
Young patients at Royal Brompton & Harefield NHS Foundation Trust (RBHT) face an array of complex health challenges and/or life-limiting conditions including congenital heart disease and cystic fibrosis, often managing extensive treatment regimes. The impact of multiple and/or long-term hospital admissions (especially if far from home) can negatively impact upon their levels of isolation, anxiety and self-determination.
Vocal Beats is a successful three-year singing, music-making and beatboxing project designed by RBHT's Arts Programme, delivered by professional vocalists along with beatboxers. With a flexible design, it responds to individual patient-need, offering personalised creative music engagement for any/all young musicians during their stay. Since starting the project in 2015 the project has supported over 600 children aged 0-16 years.