Children & Young People Award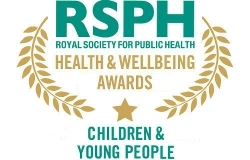 The Children & Young People Award is one of the categories of the Health & Wellbeing Awards.
This award is aimed at projects which can demonstrate a commitment to the health and wellbeing of children and young people (0-25 years).
This may be in those that deliver directly to young people themselves and or through parenting and skills development for parents and carers.
Award criteria
Entered projects and programmes can include:
Activities that promote healthy choices for physical activity, diet and substance use
Interventions that increase control for young people around their sexual health and relationships
Projects that address safeguarding
Programmes of work that enhance self-esteem and reduce harming behaviours
Programmes that offer educational and employment opportunities
Category winners have the opportunity to be selected for the prestigious Public Health Minister's Award, while all finalists are considered for two special commendations given by Public Health England (PHE).
The winners are announced at the annual RSPH Awards ceremony. ​​
​​
Previous winners​
​
Find out more
For more information about the Health & Wellbeing Awards and the entry process, please see our Frequently asked questions. Alternatively, please email us.