Health on the High Street Award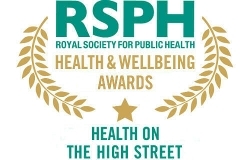 The Health on the High Street Award is one of the categories of the Health & Wellbeing Awards.
This award is inspired by RSPH's Health on the High Street campaign.
It is aimed at organisations which can demonstrate how they have made changes on their High Streets or in their business practices to improve the health of customers and local communities.
Award criteria
Entered projects and programmes can include:
Businesses using high traffic areas to increase awareness of health options
High Street businesses providing opportunities to promote social interaction for local communities
Councils using planning to enhance public space
Planning and licencing being used to reduce unhealthy outlets
Charities providing local responses to need through retail (fundraising) or support and information (drop-in services)
Category winners have the opportunity to be selected for the prestigious Public Health Minister's Award, while all finalists are considered for two special commendations given by Public Health England (PHE).
The winners are announced at the annual RSPH Awards ceremony. ​
Previous winners​
​
Find out more
For more information about the Health & Wellbeing Awards and the entry process, please see our Frequently asked questions. Alternatively, please email us.