Health on the High Street Award 2018 winner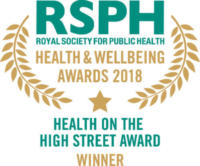 WINNER
Project: Don't Gamble with Health
In October 2014, Betknowmore UK established the first UK gambling support hub, providing gambling support and training services and working both with the local population and organisations.
It estimates that there may be as many as 3,500 people at risk of gambling related harm in the borough. Many will use licensed betting offices (LBO) and it has identified this will include gambling customers who are highly vulnerable and presenting with complex needs.
It aims to provide the delivery of rapid outreach support and treatment to customers who are at risk of gambling-related harm. Within each betting shop a referral process is established. This included poster's advertising the service, referral cards for customers to complete and staff trained to signpost the service.
Once a customer is referred to the outreach team, they are contacted within 48 hours and engagement begins. The 48 hour window is crucial - it has been recognised that this is when the gambler (usually post-gambling 'binge') is vulnerable to gambling-related harm, which may include chasing losses, extreme behaviour and thoughts (such as suicidal). It also means they may be more receptive to support and overcoming perceived barriers. Engagement within 48 hours with referred customers has been achieved 100%.
Initial contact establishes trust and more information is provided to the customer, where a brief intervention may also be provided. If the customer wishes to formally engage with treatment, an assessment is completed, and they are placed into an appropriate treatment pathway, from Tier 2-4 and a tailored support plan is designed for them.
This may include elements of mentoring, counselling, group and peer support, as well as the opportunity to support community work through volunteering. To date, 114 customers have been supported through the project.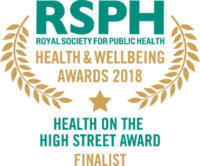 FINALIST
Project: Ashford One You Shop
A sub-group of the Ashford Health and Wellbeing board set up a task-and-finish group to tackle smoking cessation and obesity as these were identified as priorities for the district, being higher than the national average. To achieve this, a pioneering project was proposed with an integrated health improvement approach from three key partners: Ashford Borough Council (ABC), Kent County Council Public Health (KCC) and Kent Community Health NHS Foundation Trust (KCHFT).
The One You Shop was developed as the first of its kind to address health inequalities in Ashford. This meant branding an empty high street unit as a 'One You' shop to capitalise on the Public Health England One You campaign and to be able to 'sell' good health to Ashford residents and encourage people to take responsibility for their own health and wellbeing.
Success for the project is measured by analysing postcode data to ensure that the areas of highest deprivation are targeted and all outcome activities. In its first year, 1,423 people have accessed the One You shop, while 2,029 interventions have been delivered.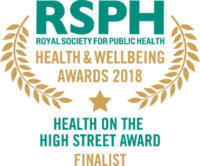 FINALIST
Project: Eat Out Eat Well
The Eat Out Eat Well Award has been developed to reward caterers who make it easier for their customers to make healthy choices when eating out.
It aims to encourage food businesses to provide healthier options to customers, through the use of healthier catering practices, increasing fruit, vegetables, and starchy carbohydrates, and decreasing fat, especially saturated fat, sugar and salt. It also recognises provision of healthy options for children, and rewards staff training and promotion and marketing of healthier options.
The scheme was originally developed in 2009 as part of the Change 4 Life campaign and had three levels. In 2016, it was refreshed in partnership with Public Health England to include the Government Buying Standards for Food resulting in the Platinum Level Award.
To date there are over 220 members of the scheme in Surrey and Buckinghamshire, and the scheme has made healthier menu options more accessible to a large customer base in Surrey (over 17,000 local consumers).