Health on the High Street Award 2019 winner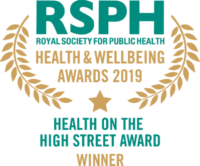 Winner
Essential Drug and Alcohol Services (EDAS)
Project: Serenitea Café
Serenitea was created in Poole to reduce the stigmatisation of substance misuse, providing a safe learning environment for clients and local community to quench their thirst by offering opportunities to replenish social, emotional and health capital by joining different communities of practice from a range of socioeconomic and ethnic backgrounds.
The support offered at The Serenitea Cafe offers individuals the chance to grow, heal, discover, take risks, and surprise themselves by doing and becoming what they never thought possible. Every visit is designed to provide support, wisdom, and companionship for the challenging work of making healthier choices as people deal with issues from whatever substance/vulnerability it is they are recovering from.
The café works in a range ways from: being an alternative front door to services for people with substance misuse issues, a local meeting place for residents and businesses, a deliciously nutritious menu that offers low prices and great value, plus a unique learning environment where accredited health courses are delivered from. In addition to all these benefits, the café also provides volunteering and employment opportunities for people in recovery from substance misuse and those with mental health and learning difficulties.
---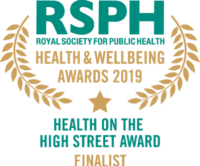 Finalist
Motivated Minds
Project: Happy Hub
Life expectancy is on average 8.6 years lower in the most deprived areas of Basildon than in the least deprived areas, indicating massive health inequalities across the Borough. The Happy Hub offers a one-stop-wellness shop in Eastgate Shopping centre, promoting the 5 ways to wellbeing.
The Happy Hub is within Eastgate Shopping Centre, in the heart of Basildon town centre. The shop promotes positive mental and physical health, offering a variety of resources and activities to support improved health and wellbeing. It aims to reduce the stigma of mental ill health and invite the general public into find out what they do and to support their pathway to flourishing. The project also takes direct referrals from Mental Health Services and Social Prescribing to support people directly in need of mental health support.
The shop has a therapeutic area offering a variety of holistic positive activities to develop tools to support and develop mental health and wellbeing. Furthermore, it also has an area with ping pong/seated exercise/yoga to support physical health and wellbeing.