Healthier Lifestyles Award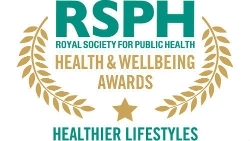 The Healthier Lifestyles Award is one of the categories of the Health & Wellbeing Awards.
This award recognises the effectiveness of projects and programmes that improve the lifestyles of the most vulnerable and supports people to make healthier lifestyle choices.
Award criteria
Entered projects and programmes should demonstrate:
Effective strategies to motivate and encourage healthy lifestyle changes through behaviour change approaches
Promotion of healthy lifestyles with children and young people, adults and the elderly at a community level, or within a setting such as the workplace, schools or care homes
Implementation of community/population approaches to health issues including physical activity, healthy eating and weight management, smoking cessation, mental health, sexual health, and alcohol and substance misuse
How they have addressed inequality, through approaches such as equality impact assessment (EqIA) and/or working with groups represented within the equality act as demonstrating one or more protected characteristics
Category winners have the opportunity to be selected for the prestigious Public Health Minister's Award, while all finalists are considered for two special commendations given by Public Health England (PHE).
The winners are announced at the annual RSPH Awards ceremony.
This year's finalists
Previous winners​
​
Find out more
For more information about the Health & Wellbeing Awards and the entry process, please see our Frequently asked questions. Alternatively, please email us.