Healthier Lifestyles Award 2019 winner
Winner
Sandwell MBC
Project: Blue Light Project
Sandwell Council implemented a multi-agency 'Blue Light' approach to supporting high impact, change-resistant problem drinkers. They are currently expanding the approach after evaluation illustrated how the work had transformed the lives of some of the borough's most disadvantaged and vulnerable people.
The multidisciplinary team incorporates public health, ambulance, police, probation, fire, local GP services, mental health professionals, the alcohol treatment provider and NHS professionals. These liaise together for monthly reviews to assess the progress of these clients through their interactions with them.
---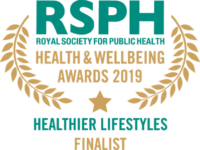 Finalist
Bike For Good
Project: Wheelbeing
Wheelbeing supports people across Glasgow, Scotland's most deprived local authority, supporting people with multiple barriers to activity to increase their physical and mental wellbeing by enabling and encouraging them to fit cycling into their everyday lives as a leisure activity and/or mode of transport for long term impact.
Transport is one of the main costs crippling low income families causing social isolation and poor health. Cycling being an affordable and healthy mode of transport, Wheelbeing offers free cycling support and guidance to vulnerable adults in areas of high deprivation.
The project has directly supported over 700 people suffering from a long-term health conditions, on a low income, in unemployment, experiencing homelessness, seeking asylum and other people who are underrepresented in cycling such as ethnic minorities and women.
Wheelbeing has delivered more than 700 free sessions enabling participants to go on a bike for the first time, discover the city using the Glasgow cycle paths network, discover Scotland and achieve longer distances, meet new people and be fully part of the cycling community.
This project has also been awarded the Public Health England Commendation 2019: Sustainable Development.
---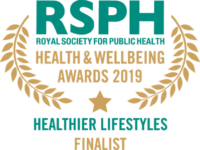 Finalist
Integrated Contraception & Sexual Health (iCaSH) Cambridgeshire Community Services NHS Trust
Project: iCaSH Express Test
Express Test is a free home test for sexually transmitted diseases, ordered online and delivered and returned in the post. Express Test detects chlamydia, gonorrhoea, HIV and syphilis, with additional Hepatitis B and C testing if indicated following risk assessment.
The test is available to anyone over 16 with no symptoms, across Bedfordshire, Cambridgeshire, Norfolk and Suffolk. Express Test was introduced to address challenges of high demand and busy clinics by providing a convenient and discreet way to test for STIs at home.
After the patient has completed and returned the test, they will be offered an appointment at their chosen iCaSH clinic if any results are positive. Signposting to other services is also offered depending on answers to assessment questions and/or their results.