Public Mental Health & Wellbeing Award 2016 winner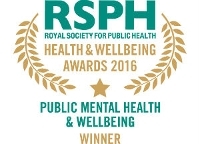 WINNER
Project: Livewell Arts Festival
The Livewell Arts Festival evolved through the ideas and ambitions of the Plymouth Mental Health and Wellbeing, Arts and Creativity Forum, a local working group set up to promote mental health, wellbeing and recovery, as well as challenge preconceived ideas about mental ill-health, via cultural and creative arts.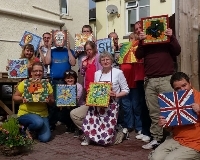 Run by the Livewell Team at Plymouth Community Healthcare in conjunction with the Forum, it was part of the local 'Winning Ways to Mental Health and Wellbeing' initiative which was based on The Five Ways to Wellbeing. This initiative was developed by NEF in 2008 from evidence gathered in the UK government's Foresight Project on Mental Capital and Wellbeing.
The mental health needs of people in Plymouth are estimated to be over 20% higher than would be expected for a city of its size. Over 40,000 people are likely to have a common mental health problem such as depression or anxiety and only half may need specialist treatment.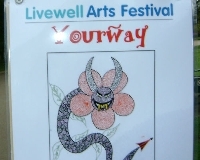 The focus of the festival was to promote and celebrate creativity and mental health and wellbeing. It was also to challenge perceptions around mental illness, make connections through the arts and being creative, and encourage participation in creativity and the arts.
Its events were held in a variety of local settings, including community centres, parks, cafés, care centres and mental health facilities, and targeted vulnerable populations such as people with severe and enduring mental health problems, people with learning disabilities, men, work places, older people and carers.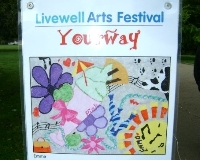 The festival was supported by a wide range of arts, voluntary, community and health organisations in and around Plymouth. These groups provide diverse and innovative art and creative opportunities for a wide range of people and have also provided unique opportunities for the festival, utilising local talent and creativity.
Having potentially involved nearly half of the population in Plymouth, the programme had a robust life course and incorporated community-centred approaches with local events that included creative workshops and taster sessions, art seminars, exhibitions and opportunities for CreativiTEA and Talk.
The evaluation of the programme reinforces much of the verbal feedback by demonstrating a high level of interest and support for the festival. 26% of the events were existing services including training and service user and support groups for people with lived experience of mental ill-health helping to raise the awareness of services and support available in Plymouth.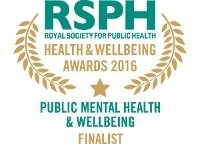 FINALIST
Project: Under My Skin
Prompted by recent local and national success of a play highlighting and addressing difficult topics, Oxfordshire County Council funded a pilot project to commission a local theatre to develop and deliver a new play which raised the issue of self-harm in adolescents.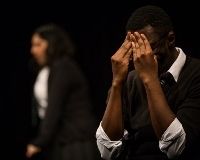 It was also inspired by research that demonstrated the use of theatre as a successful way of communicating health messages to young people, particularly around reducing stigma of mental health issues.
The Pegasus Theatre carefully researched the script, while employing actors from black, Asian and minority ethnic (BAME) communities to play the characters, using a storyline where a male was self-harming to ensure representation of cultural and gender diversity.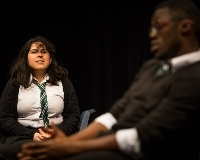 As well as providing a view of self-harm through a young person's experience, the play identified routes of support such as the School Health Nursing (SHN) service. This was reiterated through the information that came with the play which also signposted pupils to other local support networks.
Using minimal props and space enabled the play to be performed in a variety of spaces. A pre-performance presentation was also prepared for teachers to support them in raising the issue with young people.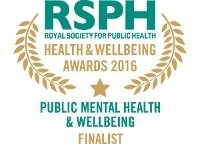 FINALIST
Project: A triage intervention for ambulance service patients with mental health issues
Yorkshire Ambulance Service (YAS) piloted specialist triage by mental health nurses in the Emergency Operations Centre (EOC) which was then subsequently implemented. This initiative is one of several ways YAS is working to improve care for patients with mental health problems.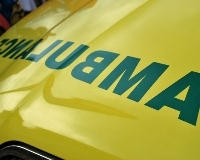 YAS identified significant demand from calls relating to mental health problems, which jeopardised performance on responses for other life threatening emergencies. YAS staff also raised concerns over insufficient availability and access to alternative care pathways for patients with mental health problems, reporting frustration in having little option other than to send ambulances.
Having secured Clinical Commissioning Group (CCG) funding, setup involved the rapid recruitment of agency mental health nurses and development of key safety, governance, assessment and audit documents.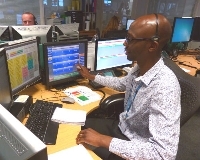 Staff identified several key benefits including improved patient assessment and support, improved access and communication with external agencies, as well as improvements in EOC workforce communication and morale. It also enhanced their ability to assess and support mental health patients in a way that non-specialist staff could not.
This project contributed to a reduction in the excess under 75 mortality rate in adults with serious mental illness together with the suicide rate indicator as part of the healthcare and premature mortality domain.