Public Mental Health & Wellbeing Award 2018 winner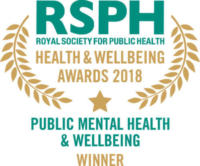 WINNER
Project: MumsAid
MumsAid is a charity founded to address the gaps in psychological support for women during and after pregnancy. It supports mothers (including teen mums) who are experiencing perinatal mental health problems like postnatal depression, and provides training to raise awareness and combat the stigma surrounding mothers' mental health difficulties. It also partners with other agencies to raise awareness of perinatal mood disorders, and use social media to communicate with mothers and challenge stigma.
Over the last six years, MumsAid has grown from a start-up with a grant of £3,400 to a well-established charity with an income of over £100,000 (2016/17). It provides counselling in seven venues in Greenwich, and has attained national recognition for best practice in perinatal hental health (PMH). All its services are family centred, so aware of children's needs as well as their mothers' needs, and support people regardless of the cause of their troubles.
It delivers free psychological therapy to women during pregnancy and up to two years after birth, with an emphasis on marginalised groups who might not access mainstream services (such as single mothers and those on very low incomes). It also offers 12 free one-to-one counselling sessions, plus follow ups, with a crèche place if required, and provides signposting and telephone support for women who are not eligible for, or able to, attend counselling.
MumsAid also runs YoungMumsAid which is a tailored programme of therapy for teenage mothers, many of whom have particularly complex needs. Research shows that two in three teenage mothers experience relationship breakdown during pregnancy or the three years after giving birth, and they are three times more likely to experience post-natal depression.
It provides training and clinical supervision for frontline staff who encounter PMH issues (such as Children's Centre staff and health visitors) and is committed to ensuring that its staff and volunteers have a rewarding experience and feel supported in their work.
It also provides regular fortnightly supervision for its counselors/psychotherapists (all of whom are experienced professionals with a particular interest in PMH), and all staff, volunteers and board members are given opportunities to participate in external training on PMH issues and safeguarding training, as well as having access to MumsAid's own CPD events.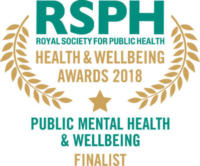 FINALIST
Mind (the National Association for Mental Health)
Project: Get Set to Go
Get Set to Go (GStG) was delivered with support from Sport England and the National Lottery to help people with mental health problems benefit from being physically active. The programme supported participants in specially designed physical activity projects, delivered in eight communities across England. Participants received group and one-to-one peer support online and offline.
GStG has three main delivery strands: local delivery, digital peer support and national campaigns. Since 2015, GStG has supported over 3,585 people with mental health problems take part in specially designed physical activity projects. Delivered in communities across England by eight local Minds (independent charities affiliated to Mind, delivering services tailored to their community as part of a network covering England and Wales).
It delivered national campaigns to raise awareness of how being active can support people's mental health, and to encourage people to become more active. It developed resources to support sports and physical activity professionals to be better able to help people with mental health problems get more active (including information booklets, training materials, leaflets and videos). Through a mix of online and offline activation it aimed to develop, test and refine a model that could be scaled across the country to get more people active.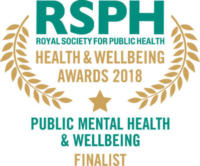 FINALIST
Project: Offload
Offload is a mental fitness programme that harnesses the power of rugby league to improve the mental fitness of men of all ages across deprived communities who are at risk of, or suffering from, low level mental health challenges.
It has been co-designed with its target audience and aims to address the huge gender disparity in death by suicide - 75% of suicides are male. It also aims to address socio-economic inequality in suicide risk, with those in the poorest socio-economic circumstances approximately ten times more at risk than men in the most affluent conditions.
The game of rugby league is ideally placed to tackle this challenge. Its core affinity areas stretch across northern England's lower socio-economic communities. The club's brands enable it to build trusting relationships with communities to understand their changing aspirations, priorities and health needs.
Offload innovatively reaches 'hard-to-reach' lower socio-economic men and engages them into mental health interventions. Firstly, through consultation, it has rewritten the language, shifting from mental health to mental fitness and using appealing/acceptable phrases for men e.g. 'build a winning mindset'.
Through its evaluation processes it has identified that it is engaging men who aren't accessing other services (60% have never sought mental health support before) and that they are making significant improvements to their wellbeing. The most powerful indicator of success is that men continue to meet independently to encourage each other and retain friendships.