Public Mental Health & Wellbeing Award 2019 winner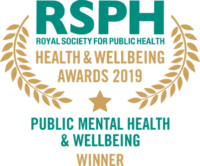 Winner
Body and Soul
Project: You Are Not Alone
You Are Not Alone is Body & Soul's pioneering suicide prevention programme. Established in April 2017, it has supported 160 young people aged 16-29 who are at high risk of dying by suicide.
Groups run for 20 consecutive weeks and members access this alongside other psychosocial, therapeutic and practical support including case work support for practical problems, 1:1 appointments with a nutritionist, 1:1 appointments with a psychotherapist, peer support and creative small group workshops.
The course focuses on four key components: mindfulness; emotional regulation; distress tolerance; and interpersonal effectiveness. Each component provides YP with a series of tools to implement to prevent self-harming behaviours and death by suicide.
This project has also been awarded the Public Health Minister's Award 2019.
---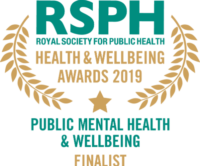 Finalist
stem4app
Project: Calm Harm and Clear Fear
With 1 in 12 young people self-harming and 1 in 8 presenting with an anxiety condition, the mental health of children and young people is a national concern. stem4 has developed two apps to support young people's mental health: Calm Harm to help manage or resist the urge to self-harm, and Clear Fear to manage the symptoms of anxiety.
stem4 provides early intervention for 12-19 year olds, via clinically safe apps, which are free, accessible, cocollaboratively created, nationally and internationally.
---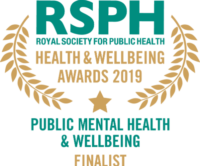 Finalist
Pause Southwark supports women experiencing removal of children from their care, to take a pause in pregnancy, and heal. Pause Southwark works practically and therapeutically with women facing complex physical, mental and social problems arising in a context of trauma, who may evince trauma-like responses to services associated with the removal of their children.
The project brings clinical expertise out of clinics into communities, helping women experiencing complex distress, who are not engaged in support. Practitioners tenaciously outreach, offering 1:1 support to link women into housing, money, work and wellbeing and support to improve remaining contact with children and alongside, deliver bespoke psychological interventions to address the relating and resilience difficulties that underpin practical problems.