Technology & Health Innovation Award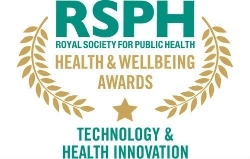 The Technology & Health Innovation Award was one of the categories of the Health & Wellbeing Awards.
It was intended to showcase the use of technology to improve public health services including (but not limited to) pathway redesign, training and professional development, public health campaigns, a new device or incorporation of a new technology into a service i.e. apps, health and social media.
It has been discontinued because more and more entries across all categories have been including technology as an integral part of their delivery.
The Health & Wellbeing Awards 2018 is now closed for entries.
Award criteria
Entered projects and programmes were expected to demonstrate:
Innovations which relate to improvements in primary and community care
The appropriate use of technology – apps and interactive websites to improve health
Innovations that integrate health care and health improvement

Activities that contribute to the research and generation of technological knowledge for health improvement​
Previous winners
Find out more
For more information about the Health & Wellbeing Awards and the entry process, please see our Frequently asked questions. Alternatively, please email us.