Technology & Health Innovation Award 2016 winner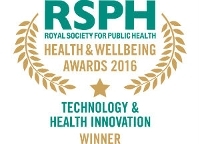 WINNER
Project: The eSexual Health Clinic System for Sexually Transmitted Infection Management, Prevention and Control
Barts Health NHS Trust promotes the importance of sexual health awareness as well as testing through its services. It has developed, implemented and evaluated an online medical care system called eSexual Health Clinic System for sexually transmitted infection (STI) management, prevention and control (eSHC System).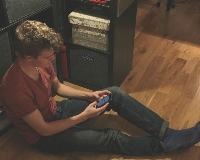 The project provides an approach to sexual health and wellbeing which allows the service user easy access and the confidence to address sexual health concerns. It enables a person who has tested for chlamydia, UK's commonest STI, to get their test result (diagnosis) and all medical management online by following an automated online clinical consultation, leading to collection of antibiotics from a community pharmacy.
STIs themselves, and the groups who are more likely to be diagnosed with STIs, are often stigmatised. The eSHC System therefore has the potential to reduce the gradient of health inequalities by providing an option for engagement for marginalised and hard-to-reach groups.
The system includes health promotion and sex partner notification and management (PN) and all components are accessible through internet-enabled devices such as mobile phones. The eSHC System is embedded within an NHS specialist sexual health service at Barts Health NHS Trust, and sexual health advisers provide user support via a clinical telephone helpline.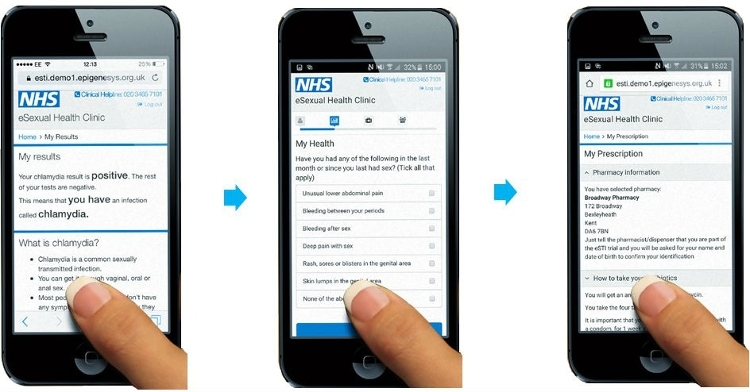 Care is self-directed, achievable entirely remote from traditional medical services and meets regulatory requirements and national standards for medical management, public health surveillance and data protection.
The exploratory studies demonstrated the safety, feasibility and acceptability of the eSHC System. Uptake was high (86% of eligible people accessed care via eSHC System). Over 2,000 people testing chlamydia negative were able to access health promotion.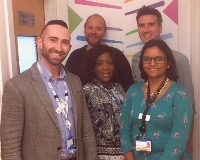 Over 300 chlamydia positive patients have already been successfully treated using the eSHC System. In these patients, rates of treatment met national standards and time to treatment was considerably faster than routine care: 72% received treatment within 48 hours of getting their results, with the fastest being 32 minutes.
Patient acceptability was high: 93% rated their care as good-excellent and 86% would recommend it to a friend. Management of sex partners was also shown to be feasible.
In the medium to long-term, the eSHC model has the potential to be implemented over a wide geographical area, integrated with existing traditional health services with economies of scale.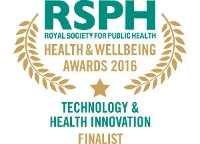 FINALIST
Project: Falls Prevention in Bracknell Forest
Falls are the most common cause of death from injury in the over 65s, and many falls result in fractures and/or head injuries.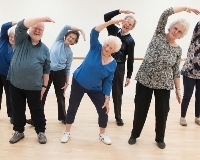 Where a fall does not result in physical harm to a person, it can have a detrimental effect on quality of life, such as reduced confidence and fear of falling.
At the heart of the Bracknell Forest Falls Prevention service is the innovative risk assessment approach provided by Solutions4Health. This service uses the breakthrough Kinesis Quantitative Timed Up and Go (QTUG™) device as part of its comprehensive Falls Prevention service delivery.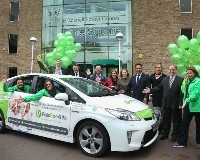 The QTUG has been shown to be much more accurate than traditional methods in assessing risk of falls in older adults, and therefore ensures that eligible individuals are offered a tailored package of advice, support and an appropriate falls intervention at the earliest opportunity.
After the pilot's first year, it surpassed the 200 falls risk assessment target, achieving 279 which resulted in 260 early interventions to reduce falls risk and increase quality of life and sense of wellbeing. Without the QTUG technology and this service, it is unlikely that these individuals would have been identified.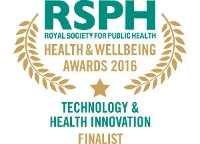 FINALIST
Tees Valley Public Health Shared Service (working on behalf of Darlington, Hartlepool, Middlesbrough, Redcar and Cleveland and Stockton-On-Tees local authorities)
Project: The Tees Lung Health Check (COPD Case Finding) Programme in Primary Care
People living in Teesside experience some of the lowest life expectancies in England and have remained substantially below the England average.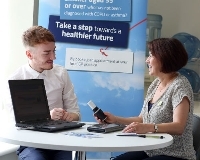 Respiratory diseases, and in particular chronic obstructive pulmonary disease (COPD), contribute to about 25% of the health inequalities in life expectancy gap.
Many people are often diagnosed relatively late, in the moderate to severe stages of the disease. There is currently no cure for COPD, so early diagnosis is important to improve quality of life.
The Lung Health Check Programme (LHCP) was introduced on Teesside in January 2013 under a service agreement between the four Tees local authorities and general practices.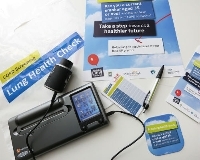 This five-year rolling programme involves a systematic face to face risk assessment aimed at smokers aged 35 years and over and quality-assured spirometry to identify possible COPD cases.
The programme is the only one in England that has implemented a systematic and large scale approach to the early detection of COPD and is leading to increased COPD education in primary care. As at 30 March 2016, 10,781 individuals had received a lung check, with 1,328 (1 in 8) subsequently diagnosed with COPD.