Public Health England Commendation 2019 winner: Reducing Inequalities at Community Level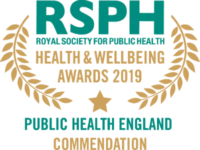 Winner
British Islamic Medical Association (BIMA)
Project: Cancer Screening Awareness
There is evidence that the uptake of the cancer screening programme is poor amongst British Muslims. The British Islamic Medical Association decided to raise awareness of and dispel the myths surrounding these programmes by reaching out to the public using mosques, community centres and radio stations across the country.
The British Islamic Medical Association members who helped deliver the campaign were health care professional from various backgrounds including GPs, Consultants, Nurses, Pharmacists and senior medical students amongst others.
Winners of the Public Health England Commendations are selected from the finalists of the corresponding year's Health & Wellbeing Awards.