Public Health England Commendation 2019 winner: Sustainable Development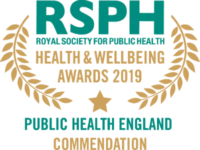 Winner
Project: Wheelbeing
Transport is one of the main costs crippling low income families causing social isolation and poor health. Cycling being an affordable and healthy mode of transport, Wheelbeing offers free cycling support and guidance to vulnerable adults in areas of high deprivation.
The project has directly supported over 700 people suffering from a long-term health conditions, on a low income, in unemployment, experiencing homelessness, seeking asylum and other people who are underrepresented in cycling such as ethnic minorities and women.
Wheelbeing has delivered more than 700 free sessions enabling participants to go on a bike for the first time, discover the city using the Glasgow cycle paths network, discover Scotland and achieve longer distances, meet new people and be fully part of the cycling community.
​Winners of the Public Health England Commendations are selected from the finalists of the corresponding year's Health & Wellbeing Awards.