Public Health England Commendation 2017 winner: Sustainable Development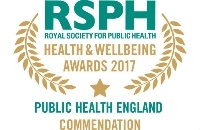 ​

WINNER - Sustainable Development
University College London and Canterbury Christ Church University
Project: Museums on Prescription
Museums on Prescription is the first scheme of its kind in the UK to directly link up museums and referrers from health, social care and third sector organisations to tackle health inequalities.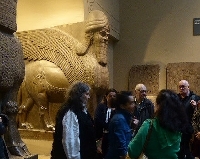 The project was carried out over by University College London and Canterbury Christ Church University, in partnership with seven museums, three health and social care trusts, and four third-sector organisations located in central London and Kent.
The project established novel programmes of museum-based, creative activities for lonely, older adults aged 65-94 years at risk of social isolation. Its objectives were to assess improvements in mental and psychological wellbeing and social inclusion as a result of the museum participation, using robust methods to explore reasons for change and regional differences...read more.
This project has also been awarded the Arts & Health Award 2017.
​Winners of the Public Health England Commendations are selected from the finalists of the corresponding year's Health & Wellbeing Awards.