Public Health Minister's Award 2017 winner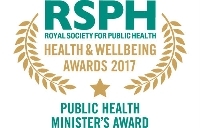 WINNER
Addaction UK
Project: Mind and Body
Mind and Body is an early intervention programme that supports young people involved in or deemed vulnerable to self-harming behaviours.
It is currently delivered across Kent, Cornwall and Lancashire and helps participants to talk openly about mental health, reducing stigma and helping them develop more positive coping strategies.
Young people accepted on to the programme are placed into small groups where they are able to explore the topics of mental health and self-harm without being judged or stigmatised.
Whilst not normalising self-harm as a behaviour, it seeks to normalise talking honestly about mental health and as the programme develops, young people are able to realise they are not the only ones experiencing difficult thoughts and emotions...read more.
This project has also been awarded the Public Mental Health & Wellbeing Award 2017.
Winners of the Publc Health Minister's Award are selected from the category winners of the corresponding year's Health & Wellbeing Awards.