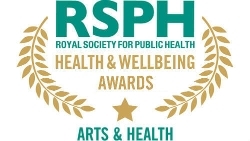 The Arts & Health Award is one of the categories of the RSPH Health & Wellbeing Awards.
This award recognises organisations whose work has furthered the contribution of the creative arts to health and wellbeing.
Award criteria
Entered projects and programmes should demonstrate:
High quality creative arts and music provision that addresses significant health and wellbeing issues affecting individuals, families and the wider community
Supporting patients, families and healthcare staff involved in the planning and delivery of creative arts and music provision for health and wellbeing
Strong partnership working between creative artists, musicians, the NHS, public health professionals and other stakeholders
Attention to sensitivity towards issues of cultural diversity and social inclusion
Category winners have the opportunity to be selected for the prestigious Public Health Minister's Award.
The winners are announced at the annual RSPH Awards ceremony. ​​​​
Previous winners
Find out more
For more information about the Health & Wellbeing Awards and the entry process, please see our Frequently asked questions. Alternatively, please email us.
---
Supported by the Philipp Family Foundation.