Health and Wellbeing Awards Finalists 2022
Health and Wellbeing Awards Finalists 2022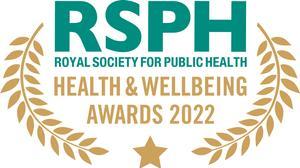 The Awards recognise and celebrate a wide range of activities, policies and strategies that empower communities and individuals, improve the population's health and address the wider social determinants of health.
The judges and assessors were overwhelmed by the standard and breadth of entries. As the programme continues to increase in stature and recognition, RSPH would like to thank all the entrants for contributing to that success and all the work that went into preparing their applications.
If you would like to apply for the next Awards, please register your interest to receive updates about the application process.
Arts and Health
Supported by the Philipp Family Foundation
Finalist - Made by Mortals
Project - Hidden
Finalist - St Helens Library Service, St Helens Borough Council in partnership with Public Health, St Helens Borough Council
Project - Creative Alternatives
Finalist - York St John University
Project - Converge
Community Health Development
Finalist - Cancer Research UK
Project - Talk Cancer training and interpreted workshops with Bradford District and Craven Clinical Commissioning Group
Finalist - Lambeth Early Action Partnership (LEAP)
Project - Postnatal meals service: bridging the gap for families created by the Covid-19 pandemic
Finalist - Swim England & Good Boost
Project - Swim England / Good Boost Partnership
Health and Wellbeing in Workplaces
Supported by Mental Health First Aid England
Finalist - Guy's and St. Thomas' NHS Foundation Trust
Project - Showing we care about you – Staff Wellbeing and Recovery Plan
Finalist - National Grid Grain LNG
Project - Health and Wellbeing at Grain LNG
Finalist - Unilever UK Ltd
Project - Healthier U
Health at Every Age
Finalist - Khulisa
Project - Face It
Finalist - Nottingham Trent University
Project - Healthy NTU – NTUs Health Promotion programme
Health Equity
Finalist - Brighton & Hove LGBT Switchboard
Project - The Dementia Support Project
Finalist - Somerset County Council (Public Health)
Project - Homeless Health and Wellbeing in Somerset including the Homelessness Reduction Board
Finalist - The Food Foundation
Project - End Child Food Poverty Campaign
Healthier Lives
Finalist - Greenwich Leisure Limited
Project - Healthier Together Hackney
Finalist - Healum LTD
Project - You & Type 2
Finalist - Veg Power CIC
Project - Eat Them to Defeat Them
Public Mental Health and Wellbeing
Finalist - Haringey Council
Project - Haringey's Great Mental Health Programme
Finalist - Movember
Project - Ahead of the Game
Finalist - R;pple Suicide Prevention
Project - R;pple Suicide Prevention