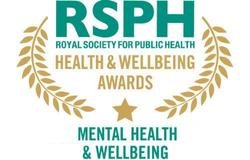 The Mental Health & Wellbeing Award is one of the categories of the Health & Wellbeing Awards.
This award's focus is the prevention of mental illness and promotion of mental health across the life course.
Award criteria
Entered projects and programmes should demonstrate:
A clear understanding of public mental health and wellbeing and the parity of esteem addressing both physical health and mental health
A population approach to promoting mental health, preventing mental illness or suicide, or improving the lives of people with a mental illness
The appropriate use of measures to evaluate mental health and wellbeing impact​
The winners are announced at the RSPH Awards ceremony, taking place in London on 28th November 2024. To register your interest sign up below.
Previous winners​
​
Find out more
For more information about the Health & Wellbeing Awards and the entry process, please see our Frequently asked questions. Alternatively, please email us.