Campylobacter: Facts and Prevention Strategies
Campylobacter: Facts and Prevention Strategies Online Course
This online course covers the essentials of Campylobacter Prevention, including the sources of this type of food poisoning and how to keep your food hygienic.
---
---
One of the most common forms of food poisoning in the UK is Campylobacter. Most people who catch it recover quickly, but for children, elderly people and those who are already ill, catching it can pose serious health risks. The good news is, most cases are preventable through understanding how it spreads and what best practice personal hygiene looks like.
This eLearning course will show you everything you need to know about Campylobacter. It's an essential course if you serve or prepare food for others or are in a profession like environmental health. The course has been designed by our tutors to make the whole learning experience engaging and straightforward.
---
Sign up to RSPH Learn
Register your My RSPH account to purchase your course and access RSPH Learn.
---
Aims of the Course
The Campylobacter: Facts and Prevention Strategies Online Learning course will equip you with all the information you need to prepare and serve food safely. This includes learning how the disease spreads and what measures you can take to prevent others from contracting it through food. By the end of the course, you'll have a good understanding of what Campylobacter is, be able to identify its sources and understand how it spreads.
---
Who is the Course aimed at?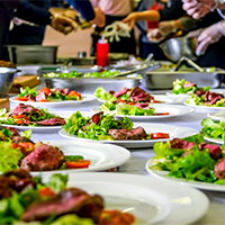 The Campylobacter: Facts and Prevention Strategies Online Learning course is essential if you have a responsibility for keeping people safe from food poisoning. Whether you work in a restaurant that frequently serves chicken or products related to chicken or have a role in food safety and hygiene, you have a responsibility to learn how best to prevent people from contracting Campylobacter.
In addition to restaurant staff and chefs, the course is also relevant to you if you work in kitchens where food is served to potentially vulnerable people like hospital or child care nurseries.
---
How much does the Course Cost?
All our online courses are priced competitively and offer great value-for-money. We offer RSPH Associate Membership at a reduced rate when purchased alongside this course, representing a saving of £45. The cost of the Campylobacter: Fact and Prevention Strategies Online Learning Course, depends on whether you select the Course Only or the Course + Membership bundle. And how many courses you intend to buy (see Volume Discount below):
---
Course only: £20 each
Course + RSPH Associate Membership: £50 each
---
How do you access the Course? And how long does it take to complete?
All course materials are accessed through our interactive online platform RSPH Learn. (you need to be connected to the internet). You can purchase the course by visiting our Learning Catalogue in My RSPH. If you do not have an account you must first register here. You can buy a course for yourself, or multiple to assign to other learners. If you are buying a course for yourself, you should tick the 'assign course to yourself' box at the check-out.
The course topics are split out, with Revision Quizzes to test your knowledge, as you work through the modules. It can be paused and restarted whenever you like, and you have six months to complete the course. The entire course involves up to three hours of study. On successful completion, you'll receive an RSPH CPD Completion Certificate and three CPD points.
---
24/7 Access via the RSPH Learn LMS
All RSPH online courses are accessed through RSPH Learn, our online learning platform, which can be used across all devices.
---
Course Contents
The course is split into the four key sections - with interactive elements to maintain your attention and make learning easier. At the end of each section, you'll find a Revision Quiz to help boost your learning.
PART 1: What is Campylobacter?
Campylobacter is one of the most common forms of food poisoning and a disease that everyone who works with food should know how to prevent. The first topic introduces learners to the Campylobacter bacteria and the symptoms that are associated with the disease. Learners will also explore how Campylobacter can cause various long-term health conditions, what the result of these conditions could be and which ones can be potentially life-threatening.
PART 2: History and prevalence of Campylobacter
Although anyone can catch Campylobacter, it is more likely to affect certain groups of people and at certain times of the year. The second topic provides learners with a brief history of the bacteria and includes findings about recent trends in Campylobacter contraction relating to age, sex and seasonality.
PART 3: Sources of Campylobacter
It's incredibly important to know which foods and cooking environments are the likely causes of Campylobacter spreading. The third topic explores ways in which people can be exposed to the bacteria, including how chicken and liver can pose a risk of Campylobacter contraction, and how unpasteurised or 'raw' milk can cause the disease.
PART 4: Changing behaviour
The final topic explores the importance of raising awareness of the bacteria and why a holistic approach is vital in Campylobacter prevention. Learners will also gain knowledge on how cross contamination in the kitchen occurs and how it can be avoided. This module also covers the importance of hand washing, and the safest way to cook chicken and chicken liver.
---
Certification