Level 2 Award in Understanding HACCP
Level 2 Award in Understanding HACCP online course
The RSPH Level 2 Award in Understanding HACCP syllabus. This course has been created to support food businesses to put in place food safety management systems, which are based on HACCP principles.
---
---
Hazard Analysis and Critical Control Point (HACCP) is a food safety system that helps businesses to keep the food they prepare safe and hygienic. All managers, supervisors and team leaders, who are responsible for the smooth and safe running of a kitchen, should know how to put together and implement a HACCP-based system.
The Level 2 Award in Understanding HACCP covers the principles of HACCP that all kitchens that prepare and serve customers food, and meat in particular, need to know. It will give learners the skills and confidence to put systems in place to make sure that their food is cooked safely and efficiently. This course is a straight-forward and effective introduction to the concept of HACCP and how to develop procedures for food preparation which comply with the law.
The course has been designed by our tutors to make the whole learning experience engaging, straightforward and painless. Similarly, the learning material is interactive, split into manageable bite-size sections and created to be as flexible as possible, to fit around your busy schedule!
---
Aims of the Course
The Level 2 Award in Understanding HACCP Online Learning course will equip you with all the information you need to set up a safe food management system. This includes learning how to develop effective systems for hazard point analysis, personal hygiene and pest control.
---
Who is the Course aimed at?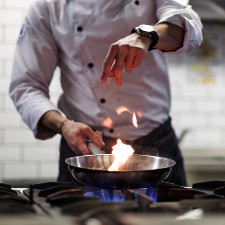 The aim of the Level 2 Award in Understanding HACCP is to ensure that all learners understand the key principles of HACCP and the processes involved in developing a HACCP plan. This eLearning course is ideal for anyone who works in a food or food-related businesses who has a responsibility for maintaining food safety standards.
This course will also be very helpful for people employed in food manufacturing, catering and food retail sectors. It's really important that staff understand their roles and responsibilities in relation to HACCP system and this course is particularly useful for people who are planning on becoming a member of a HACCP team. Even if you have an understanding of HACCP systems, this course is a great way to refresh your knowledge and skills and make sure beginners in your team are up-to-date with HACCP principles.
---
How much does the course cost?
All our online courses are priced competitively and offer great value-for-money. The cost of the Level 2 Award in Understanding HACCP Online Learning Course, depends on whether you select the Course Only or the Course + Assessment bundle. And how many courses you intend to buy (see Volume Discount below):
---
Course only: £30 (ex VAT) each
Course + Assessment: £40.50 (ex VAT) each.
---
Optional Assessment
Learners have the option to take the assessment for this qualification which leads to the Level 2 Award in Understanding HACCP qualification. However, taking the course - even without the assessment - will still provide you with all the necessary skills and knowledge you need (without a formal certificate).
Volume Discounts
If you represent an organisation and you're interested in purchasing multiple (10+) Online Learning Courses for your colleagues or employees, we offer attractive discounts for bulk purchases. You can add Up to 200 courses to your basket and the discount will be automatically applied. Or you can talk to our lovely RSPH Learn Team about your requirements here.
How do you access the course? And how long does it take to complete?
All course materials are accessed through our interactive online platform RSPH Learn. (you need to be connected to the internet). You can purchase the course by visiting our Learning Catalogue in My RSPH. If you do not have an account you must first register here. You can buy a course for yourself, or multiple to assign to other learners. If you are buying a course for yourself, you should tick the 'assign course to yourself' box at the check-out.
The course topics are split out, with Revision Quizzes to test your knowledge, as you work through the modules. It can be paused and restarted whenever you like, and you have six months to complete the course. The entire course involves up to seven hours of study. On successful completion, you'll receive an RSPH CPD Completion Certificate and seven CPD points.
I'm a centre - How do I register to deliver this course?
We offer bulk discounts on all courses, and can facilitate centres and organisations enrolling groups of learners onto one or multiple of our courses. Please get in touch for more information on our existing courses, and you can register your interest below for updates on the new Level 2 Award in Understanding HACCP.
This eLearning course can be used to deliver the content to prepare the learner for the qualification assessment, or used alongside additional teaching as a blended-learning approach. We are also able to signpost you to tutor guidance to support you in this delivery.
We're also excited to announce that we will soon be launching our eAssessment platform, which will allow centres to deliver both the course content and assessment remotely. Please find more information here.
Register your interest below for updates on the launch of the course, and gain early access to the free demo.
Register your interest