Children and Young Adults' attitudes towards vaccinations – what they know and what they have to say
Children and Young Adults' attitudes towards vaccinations – what they know and what they have to say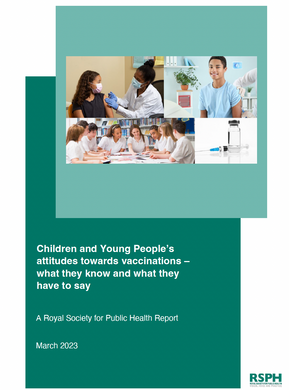 Children and Young Adults' attitudes towards vaccinations – what they know and what they have to say
Vaccines are crucial for the health of the nation, and understanding attitudes and perceptions of vaccines is fundamental to increase uptake. Most vaccinations in the UK are given to children and young people (CYP), however, uptake is below the recommended levels in all four nations and concerns about trust, access and safety.
The RSPH carried out innovative research with a sample of CYP from across the UK to understand their experiences, perceptions and attitudes towards vaccines. This is the first time that CYP have been asked about their views and had a chance to share what they think about vaccines, what they know about them, where they get information from, alongside their fears and concerns.
The study found that despite the majority of CYP recognising the importance of vaccines and which diseases there are vaccines for, experiences and perceptions varied by age, ethnicity and also nation.
We partnered with Dubit, a specialist kids and youth research agency, to conduct qualitative and quantitative research with CYP.
MSD UK has funded this project and has had no editorial input into the content.
See below for our full list of resources
Children and Young People's attitudes towards vaccinations – Full report
Children and Young People's attitudes towards vaccinations – Executive summary
Vaccines survey - Northern Ireland