Gin Lane 2016: Iconic Artwork Reimagined for the 21st Century
As the world's longest established public health body, RSPH celebrates its 160th anniversary this year. To commemorate this milestone, it commissioned talented up-and-coming artist Thomas Moore to reimagine William Hogarth's infamous 1751 cartoon Gin Lane – which depicts the debilitating effects of the gin crisis then sweeping London – for the 21st century.
The new artwork, which reflects some of the biggest public health challenges now facing British society, was unveiled at RSPH's Annual General Meeting on Wednesday 19 October 2016.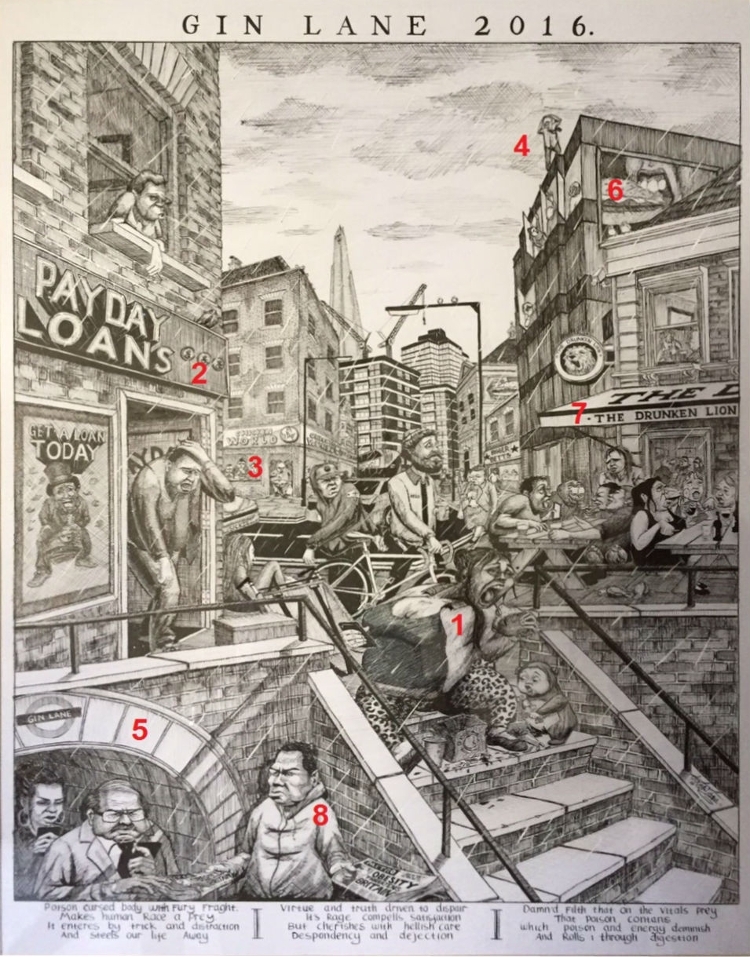 Gin Lane 2016: interpretation notes
The overall scene is the same street as presented in the original Gin Lane, but has been developed and modernised so that it is representative of a typical street scene in London, or indeed anywhere in the UK today.
The central character has been reinvented. Where the original depicts a mother who is drunk and too pre-occupied with taking snuff to care for her baby, Gin Lane 2016 instead shows the mother preoccupied with eating junk food, which she has also fed to her child.
A pawnbroker is one of the significant and thriving businesses in the original piece. In the modern version, this has been replaced by one of the payday lenders which have become a feature of many high streets, and are perhaps a 21st century equivalent. The desperation of one of the customers leaving the payday lender represents the mental ill health associated with debt.
The chicken shop is a representative feature of the obesogenic environment which is at the heart of Gin Lane 2016 – busy, vibrant, and packed full of glum looking customers.
The man contemplating throwing himself off the top of a building is a nod to the original in which a barber is seen hanging, having committed suicide because his customers could no longer afford to have their hair cut. Suicide is now the single biggest killer of men under 45 in the UK.
The original arch has been converted into Gin Lane tube station, with commuters glued to their smart phones – a depiction of the busy, potentially lonely existence of many Londoners today.
Junk food adverts provide another reflection of the ubiquitous power of marketing in our obesogenic environment.
The distillery from the original piece has become a busy pub, replete with rowdy drunk customers.
A news vendor hands out a paper with another headline about the threat posed by obesity.
Artist Thomas Moore said: "When I contacted the RSPH for this commission, I told them that, as an avid Hogarth fan with an interest in public health, I was the man for the job. After being commissioned for the piece, I can honestly say that I've given it everything. Hogarth was the grandfather of the cartoon, so I treated this project with the respect it rightly deserved. Recreating Gin Lane over the past few months has completely consumed me. Hogarth – I hope you approve."
Artwork copyright: RSPH / Thomas Moore 2016