Our Strategic Plan
RSPH exists to ensure everyone can live a healthier and longer life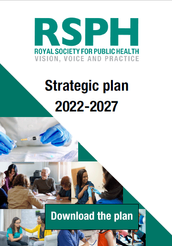 The Royal Society for Public Health is the oldest public health agency in the world. Established in 1856, we have over 150 years of experience in supporting the wider public health workforce through education, training, research and influencing and, more importantly, supporting the public's health.
Our 2022 – 2027 strategic plan brings in the next chapter for the charity. We will continue to fulfil our role as established in the royal charter, but we will also go further and be bolder in our ambitions to support our members and to tackle the greatest challenges we currently face, such as the gross inequalities exacerbated by the Covid-19 pandemic, and the cost of living crisis.
Our vision, voice, and practice will guide our work for the next five years, enabling us to deliver our high-quality services whilst being a strong and sound organisation, so we can impact the public's health for many years to come.