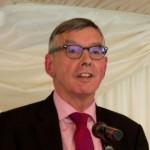 David Kidney, Chief Executive of UK Public Health Register, explains the importance of the organisation for the public health community and its future.
About UKPHR
UKPHR has been registering multi-disciplinary specialists in public health professional practice since 2003. We have registered public health practitioners since 2011 and Specialty Registrars since 2015.
Our primary purpose is public protection and to promote public confidence in the quality of public health professionals' practice UK-wide. Our ethos is of continuous improvement both in respect of our own services and the quality of practice of registrants.
Registration assures the public and employers that multi-disciplinary Specialists, Specialty Registrars and Practitioners in public health are appropriately qualified and competent. Our standards are recognised throughout the United Kingdom.
A register on the up
This autumn, we closed the first registration route we opened back in 2003. It marks an end of an era for us. We were set up to receive portfolios of evidence from senior public health professionals and assess their suitability for appointment to leadership posts in the UK's public health system.
Thus was created our RSS (Recognition of Specialist Status) route, under which we registered generalist specialists. In all the time this route was open, we registered 377 generalist specialists by the RSS route.
Back in 2003, it was novel for places on the Public Health Training Places to be allotted to professionals from disciplines other than medicine. It became our responsibility to provide the newly qualified multidisciplinary consultants with a regulatory home.
Thus was created our Standard route and these registrants, too, became generalist specialists. I think this development is at the heart of today's multidisciplinary approach to public health practice.
This same autumn, we closed the defined specialist portfolio assessment route. Opened in 2007, this portfolio assessment route was intended to address the needs of existing specialists whose skills and knowledge were particularly deep in some areas.
In all the time this route was open, UKPHR registered 143 defined specialists. Currently, there are 75 portfolios in assessment or waiting to be allocated to assessors for assessment by the defined specialist portfolio assessment route.
In place of the two retrospective portfolio assessment routes we closed, we now offer a Specialist Registration by Portfolio Assessment (SRbPA) route. Opened on 01 September 2018, this route involves a two-stage application process. Stage 1 is a pre-application process intended to screen for eligibility and readiness to submit a portfolio. Stage 2 requires the submission of a portfolio of evidence for assessment.
One year on from its opening, eight people had made a Stage 1 application. Three were successful, five were turned down. We have received the first portfolio under this route's Stage 2, which has been assessed by two assessors.
We regard our role as public protection by assuring the competence of the UK's core public health workforce. We admit onto our register only those professionals who have satisfies us of their competence.
We require registrants to maintain and enhance their competence while they are on our register. Continuing professional development (CPD) is a mandatory requirement and we audit compliance.
We introduced revalidation for all specialist registrants in 2019 and we will introduce revalidation for practitioner registrants in 2020. Revalidating registrants every five years means we and our registrants are focused on professional competence and service improvement.
In 2019 we amended our standards for practitioner registration and amended the e-portfolio which most practitioners are using when they seek registration with us. Linked more directly to the Public Health Skills & Knowledge Framework (PHSKF), the amended standards have been well received.
We are following closely the development of the Level 6 Public Health Apprenticeship, which also links to the PHSKF and our amended standards.
It feels like we are entering a new era in our work. I look forward with a sense of ambition and I am confident that our register will continue to play its part in helping the UK's core public health workforce go from strength to strength. It looks increasingly likely that we can successfully marry up improving the population's health and wellbeing and reducing inequality with offering attractive careers in public health.