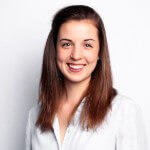 Keisha Simpson, a recent graduate from Bishop's University and co-founder of Live Life Unfiltered, shares her personal experience participating in the #AsSheIs Challenge.
About this time last year, I had an epiphany, my first-ever truly daunting epiphany: social media was hurting my self-esteem. Like many, I endlessly scrolled through Instagram, comparing myself to my peers' perfected photos and scrutinizing my body.
This revelation motivated me to cultivate my feed into something more meaningful. I started following only accounts that added value to my life, whether that was my best friend or adorable bulldog puppies, I carefully selected who had the privilege of appearing on my feed.
My struggles also lead me to co-founded Live Life Unfiltered and the Instagram Challenge #AsSheIs with my twin sister, Teagan. The #AsSheIs Challenge encourages young women to post an unfiltered photo and to be real and vulnerable in their caption.
In my personal post for the challenge, I posted a photo of just my legs - my biggest insecurity. When I finally pressed 'share', I immediately turned my phone off, too scared to see the reaction. To my surprise, nothing happened. A dozen friends commented on my photo and I got the same number of likes as normal but nothing out of the ordinary occurred.
I had just shared my biggest secret to my followers and my community still accepted me.
The challenge went viral on my campus and it was overwhelming to read the stories of my peers who participated. Girls were coming forward, and often, for the first time ever, being truthful and vulnerable on social media.
I read through hundreds of posts and was surprised to learn that many of my peers had the same insecurities that I did. So many girls were talking about their struggle to feel beautiful despite the fact that I thought they were absolutely stunning.
What I didn't realize was how many of my friends were doing the exact same thing as I was, comparing themselves to others on social media, ultimately leading to feelings of insecurity about their own bodies and lives. I thought my struggle with insecurities was unique but I realize now that that is not the case. I believe the majority of us, especially young women, struggle with social media and body image.
Months later, I have learned the power of a secret. I understand how potent hiding an aspect of ourselves can be. I have hidden my legs on Instagram for years, carefully selecting my photos to only show a version of myself.
After this experience and being accepted by my community, I understand the importance of showing me, as I am. While I must say, I still struggle to post a 'bad' photo of my legs, I am working on showing this side of myself more often. I take more pride in my account, posting the photos that I love, instead of the photos that I believe will bring acceptance. Through this practice, my account has become more meaningful: a place where I can share who I am with those I love.