Learners share their experiences of taking RSPH qualification
The RSPH Level 3 Certificate in Health and Wellbeing Improvement was developed to give Health Improvement Practitioners new skills and methods for promoting and encouraging best practice health and wellbeing to others. The course's students come from a range of job roles and backgrounds, including Council Health Trainers, Health Champions and Health Improvement Link Workers.
As well as giving learners confidence and skills for effective conversations and consultations about health improvement behaviours, the course also provides groundings in the wider context of how health inequalities occur. RSPH is committed to reducing health inequalities across the country, and one of the ways we hope to achieve this is through qualifications like the Level 3 Certificate in Health and Wellbeing Improvement.
Three Health Improvement Practitioners recently completed the Level 3 Certificate and told us their thoughts of the Qualification and how they plan to put what they learnt into practice.
Faye Halliwell: Health Improvement Practitioner at Bolton NHS Foundation Trust
The content of the qualification suited my role perfectly. It helped me to develop a number of skills that I use every day in my work with patients, particularly motivational interviewing and active listening.
Being able to use these two skills together has made it so much easier for me to be able to give a patient the time and space to come to their own decisions on changes to their lifestyle. Instead of telling them what they should do or what they need to, I'm able to work with them to identify the genuine root causes of any health issues and to come up with their own ideas and solutions for addressing them.
For example, I've worked with a number of patients who are referred to us as a result of excessive alcohol intake. By listening to them and asking open questions, you're often able to identify that this is due to them being socially isolated and bored. For the patient, this is what they see as the risk to their health – not the alcohol consumption – and this is the aspect of their lifestyle they are really motivated to change.
In my role, the only way in which you can reach this stage with patients is by asking them open questions, listening carefully to what they are saying and reflecting with them to make sure you've understood their point of view. The course really helped me to hone these skills.
I would absolutely recommend this qualification to others in a similar role to mine. It opens up so many other ways to connect with the patient and gives you the skills to empower them to make their own changes and take ownership of their own health.
Zubeda Harrif: Health Improvement Practitioner at Bolton NHS Foundation Trust
The content of the qualification and the responsibilities of my day-to-day role matched up brilliantly. So many of the different topics we covered have helped me to ensure that I make the best of each patient contact, from active and reflective listening to practical tips for building a rapport with patients.
Through the course, I picked up quite a few skills that I had never heard of before – for example I had absolutely no idea what motivational interviewing was! The tutor helped us to really understand the techniques involved and the qualification gave us the chance to practice those skills through the role play activities incorporated within it.
I honestly feel that I use something I learned from the programme every time I'm with a patient. It has broadened my horizons and allowed me to make the most of myself and my skills, so that I can help patients to make changes to their lifestyles and improve their lives.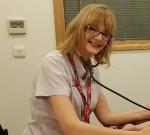 Amanda Crowther: Health Improvement Practitioner at Bolton NHS Foundation Trust
I find it difficult to pick out one single aspect of the qualification that has helped me the most. I think the learning I took from the programme has made every element of what I do easier and more impactful for my patients.
One example I could give is of a patient who had been referred to me as part of the pathway for smoking cessation. By using the motivational interviewing techniques I picked up on the course, we identified that she was smoking at the evening when she was feeling bored and lonely. She had a job which involved her being up very early in the morning, so it wasn't as simple as just suggested she found a hobby that got her out of the house at night, as she was often tired and wanted to stay in.
We identified that she had previously enjoyed knitting, reading and doing jigsaws on her phone, but had just fallen out of the habit of doing them. Following our conversations, she felt motivated to re-introduce these activities to her evenings. As a result of the asset-mapping and partnership-building sections of the qualification, I massively improved my knowledge of the health improvement services available in Bolton. I knew that a local pharmacy was running a campaign at that time around smoking cessation. After I signposted the patient to that pharmacy, she decided to use NRT patches and we worked alongside the pharmacy to continue to support her.
Once she started the patches, she also decided to address her alcohol intake at the same time, as we identified that the two often went hand in hand. As of our, last meeting she was four weeks smoke-free and was only having a drink at weekend. She was thrilled with her progress and is saving the money she previously spent on alcohol and cigarette to help fund a family holiday.
It has been a pleasure to see the changes that the patient has felt able to make to her life. It has been so rewarding playing a small part in helping her to do that and this qualification was absolutely vital in allowing me to do so.
You canfind more information about the RSPH Level 3 Certificate in Health and Wellbeing Improvement. If you have any further questions about the qualification, please contact Aaron Mansfield.