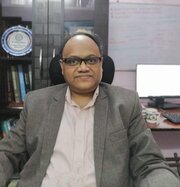 Can you tell us about your current role and where you work?
I currently work as a Health Policy Consultant at UNESCO. I'm based in New Delhi, India and I'm part of a team of experts who provide advice in the area of COVID-19. My specific role is to provide inputs about COVID-19 vaccines, as my area of expertise is viral vaccines. Our team supports the development of evidence-based policies for adoption by the member states of the UN. Since our team is spread across the globe in different time zones, we don't have regular working hours but communicate virtually when necessary.
What is your favourite part of your role?
With reference to my current role, I particularly enjoy reading the latest papers on COVID-19 vaccines and sorting the good literature from the bad and those that fall in-between – the so called "grey literature". This is the first step in the process of doing a systematic review and meta-analysis, which form the basis of developing evidence-based policies based on solid scientific data. I'm very fond of learning new things and my present role provides me the ideal opportunity to put my brain to good use.
Can you give us an overview of your career path?
Although born in India, my school education took place in Wales. I returned to India, to gain my BSc with Honours and my MSc in Human Physiology from the University of Calcutta. It was during my PhD at the Calcutta School of Tropical Medicine that I ventured into the realm of vaccinology, where we were developing a snake vaccine against Russell's viper by toxoidation of the venom using gamma radiation. I got my first taste of Molecular Biology during my post-doctoral work at the Liverpool School of Tropical Medicine.
I then joined the National Institute of Immunology (NII) in New Delhi, where I worked in Molecular Virology. Some of the viruses that I have expertise in include Japanese encephalitis, Chikungunya, Dengue, Nipah, Rotavirus and Human Papillomavirus (HPV). I've also worked in the area of vaccine development for bacterial enteric diseases, including cholera and typhoid.
Talking about how fortunate I've been in my career path; after working for over a decade in vaccine development, I ventured into the area of vaccine deployment when I joined the Translational Health Science and Technology Institute (THSTI) in the National Capital Region of Delhi as a Senior Program Officer. Here, I got a vivid idea about how the health system works, how health policies are developed, and who the key players are in translating policies into action. This stood me in good stead later when I worked for WHO, as well as in my current position at UNESCO, where development of evidence-based, actionable policies forms the essence of the work done by these organisations. Thus, I have come a full circle in my career path.
In your role, how do you support/improve the public's health and wellbeing?
As a health policy person, I have ample scope for indirectly supporting the public's health and wellbeing. By formulating evidence-based policies pertaining to health, I can provide solid recommendations for the general public to make informed choices about their health.
What area(s) of public health are you most passionate about?
My major area of interest is infectious diseases, particularly vaccine development and deployment. The area of vaccination has fascinated me since I was a college student, as it has been proven to be the most cost-effective medical intervention ever invented against infectious diseases. Even a single jab in the arm could mean the difference between life and death. Vaccines have saved millions of peoples' lives who would have otherwise perished. This has been clearly seen during the ongoing COVID-19 pandemic, an unprecedented medical calamity, which I hope we'll only experience once in our lifetimes. For this reason, throughout my research career since my PhD days, I've worked on vaccines and you could say, it's my first love.
How did you find out about RSPH and what do you enjoy most about your membership?
When I ventured into the domain of public health, I wanted to become a member of a society that would provide me a platform to interact with like-minded people and exchange ideas and at the same time, expand my knowledge in the area. I already knew that Royal Societies are highly renowned and respected in their respective areas of human endeavour. Hence, I searched for a suitable society that matched my interests and expertise and found that RSPH was the right one for me.
What do you do to take care of your own health and wellbeing?
My way of taking care of my health is to do light yoga and meditation, eat a healthy diet, and go on morning walks regularly. I love listening to music, especially Indian and Western classical music. I also enjoy watching old Hollywood classics. I also like to spend my leisure time reading, especially non-fiction. By way of hobbies, I have an ongoing interest in Philately and Numismatics.