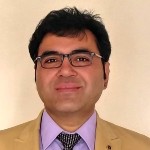 Prof. Vinay Kumar Bhardwaj FRSPH works as a Professor and Head of the Department of Public Health Dentistry at Himachal Pradesh Government Dental College and Hospital, Shimla, Himachal Pradesh in India. Since 1997, he has been actively involved in providing oral health care in the hilly state of Himachal Pradesh through his outreach program.
Can you tell us a bit about your role and where you work?
I organise regular dental treatment camps in orphanages, schools for children with special needs, areas with extreme poverty and homes for older people. With help from other dental specialists, I create awareness in communities about maintenance of oral hygiene, treatment modalities and preventive strategies for good oral health. My team includes three faculty members, Postgraduate students and interns.
With the help of various NGO's, I help to provide oral hygiene aids to the areas that need them most. An example of this is through tobacco cessation centres, which help tobacco users to stop smoking. We also then support people with regular follow-up treatments to keep them on track with their smoking cessation.
I also motivate people through print and online communications on various issues related to oral and general health. I let people know how their oral health impacts their overall health and they can use this information to make positive changes to their lifestyle. I also organise various activities related to oral and general health, including public awareness talks and communication posters created by our Undergraduate and Postgraduate students on national days like National Dentist Day, World Oral Health Day, World Health Day, World No Tobacco Day, National Tooth brushing Day and International Oral Hygiene Day.
What area of public health are you the most passionate about?
I am actively involved in research on various oral diseases and their prevalence amongst different population groups in Himachal Pradesh. I've published nearly 100 scientific articles in national and international journals and have presented 27 research papers at various conferences in India and abroad. I'm also really proud to have won the Best Scientific Deliberation award at seven presentations.
I have also worked on various projects in collaboration with the World Health Organization, Indian Council of medical research, Dental Council of India, Department of Science and Technology G.O.I.
What do you do to take care of your health and wellbeing?
I take care of my health by taking regular exercise in the form of a brisk walk for half an hour, five days a week, yoga and meditation. I also make sure I eat healthily and I also advise my colleagues, friends and neighbours to adopt these practices.
Why did you become an RSPH member?
I think RSPH has been really proactive with their responses to the changes in the ways of working that we've all had to adopt and the organisation has got involved in interactive activity at such short notice. It is my privilege to be a Fellow of the Royal Society for Public Health.