Level 2 Award in Identifying and Controlling Food Allergy Risks
Level 2 Award in Identifying and Controlling Food Allergy Risks
This online course has been created to cover the requirements of the RSPH Level 2 Award in Identifying and Controlling Food Allergy Risks, to help increase your knowledge of food allergens, the risks to people who may be harmed and how to control those risks.
Sign up to RSPH Learn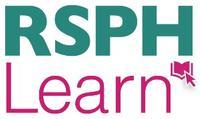 Register your My RSPH account to purchase your course and access RSPH Learn.
---
Aims of the Course
The Level 2 Award in Identifying and Controlling Food Allergy Risks online course will introduce you to the following topics including the 14 common food allergens, legislation and complying with the law, foods that commonly cause adverse reactions and more.
On completion, you'll understand:
why food allergens need to be controlled
the symptoms produced by ingestion of allergens in food
strategies to control allergens and protect susceptible people from adverse reactions
Routes of food allergen cross contamination and methods of control
Course details:
eight hours of study
eight CPD points
easy to navigate online resources
optional assessment to obtain the RSPH official qualification
auto-saves your progress so can be completed in multiple sittings
---
Who is the Course aimed at?
This Level 2 Award in Identifying and Controlling Food Allergy Risks online course is for anyone involved in the handling of food in any catering or hospitality setting. Whether you work in the production, sale, preparation or serving of food, this course will provide you with all you need to know to control food allergens and prevent the risk of serious harm.
---
How much does the course cost?
All our online courses are priced competitively and offer great value-for-money. The cost of the Level 2 Award in Identifying and Controlling Food Allergy Risks Online Learning Course, depends on whether you select the Course Only or the Course + Assessment bundle. And how many courses you intend to buy (see Volume Discount below):
Course only: £30 each
Course + Assessment: £58.50 each
Optional Assessment
Learners have the option to take the assessment for this qualification which leads to the Level 2 Award in Identifying and Controlling Food Allergy Risks qualification. However, taking the course - even without the assessment - will still provide you with all the necessary skills and knowledge you need (without a formal certificate).
Volume Discounts
If you represent an organisation or Centre and you're interested in purchasing multiple (10+) Online Learning Courses for your colleagues or employees, we offer attractive discounts for bulk purchases. You can add Up to 200 courses to your basket and the discount will be automatically applied. Or you can talk to our lovely RSPH Learn Team about your requirements here.
---
How do you access the course? And how long does it take to complete?
All course materials are accessed through our interactive online platform RSPH Learn. You can purchase the course by visiting our Learning Catalogue in My RSPH. If you do not have an account you must first register here. You can buy a course for yourself, or multiple to assign to other learners. If you are buying a course for yourself, you should tick the 'assign course to yourself' box at the check-out.
We offer bulk discounts on all courses, and can facilitate centres and organisations enrolling groups of learners onto one or multiple of our courses. This online course can be used to deliver the content to prepare your learners for the qualification assessment, or used alongside additional teaching as a blended learning approach. Please contact [email protected] for more information on any of our courses and centres can also request a free demo to preview a section of the course before you decide to purchase.
The course topics will be split out into six modules, with Revision Quizzes to test your knowledge, as you work through the modules. It can be paused and restarted whenever you like, and you have six months to complete the course. The entire course involves up to eight hours of study.
---
Course contents
The course is divided into six modules and at the end of each section you will find a revision quiz to help consolidate your learning. After completing the final topic, the Practice Assessment will help prepare you for the "Identifying and Controlling Food Allergy Risks" assessment, should you wish to take it.
Course modules:
Introduction to food allergy, coeliac disease and food intolerance.
Legislation and complying with the law
Foods that commonly cause adverse reactions
Food Allergens in dishes and products.
Contamination and Cross contamination
Communication and Customer Service