Essential Food Hygiene (4th Edition 2018) by Dr RJ Donaldson OBE
Essential Food Hygiene (4th Edition 2018) by Dr RJ Donaldson OBE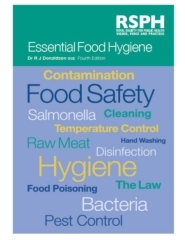 | Qty | Price per unit |
| --- | --- |
| Standard price | £3.50 (ex VAT) |
---
This guide is the essential text for the RSPH qualifications Level 1 Award in Food Hygiene Awareness and the Level 2 Awards in Food Safety.
It reflects throughout changes brought about by legislation, particularly the need for food safety management procedures based on the principles of HACCP (Hazard Analysis Critical Control Point).
As well as being an ideal up-to date text for students preparing for examinations in food hygiene and safety, the purpose of this book is to enable anybody who works with food to understand what they need to do to ensure that the food is safe to eat.
It is particularly relevant to people whose job involves working with food but it is also relevant to anybody who handles food at home and to young people who are learning about food.